Brady lit up a cigarette and handed one to Stuart. It was Friday afternoon and time for the weekend. Stuart took a puff and hatched a plan, "Heard it's gonna clear up tomorrow. How about say we head for the hills?"
Brady managed the inventory and Stuart drove the fork lift in the hospital warehouse. Supplies arrived at the loading dock and made their way to the clinic and ward with clocklike efficiency. Their partnership extended to the weekend during what they called the harvest season. Fruit and berries in the Willamette Valley, salmon and steelhead from the Willamette and Columbia Rivers and shellfish from the Oregon Coast. Brady lived to eat and Stuart just liked to eat.
"Mind if I bring the boy?" Stuart flicked his cigarette butt out into the parking lot.
"Wouldn't mind meetin' him," Brady stubbed his smoke and deposited it in his shirt pocket. "Picking mushrooms is a father and son thing. Can't learn it in books. You need a guide, a mentor."
"Well, he's not technically my son, quite yet. But, he might as well be. Hell, we're already going to family counseling."
"Maybe bein' out in the natural world would be good for him."
"He's not interested in the woods," Stuart clarified. "Told him that I'd take him to the Pit. He wants to see where it all went down."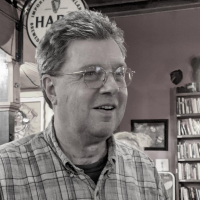 Casey Bush is a Portland poet whose eighth collection Student of Hippocampus was published in 2018 by Last Word Press (Olympia, WA).  His essay "Sisters Around the Cauldron: Mary Barnard and Her Sappho" was recently posted on the Berlin based website The Decadent Review.  Casey is the poetic voice of Notes & Motes: The Vlatkovich Trio Plus One.  He recommends Planned Parenthood and the Southern Poverty Law Center.