"First Shot of the Philippine-American War, Feb. 4, 1899" and "Poetry and Plumbing"
First Shot of the Philippine-American War, Feb. 4, 1899
Night. "About eight o'clock…"
 
From a fence along the street,
 
"…a red lantern flashed a signal…
We had never seen such a sign used before,"
 
the armed visitor alleged.
 
Then, a brown-skinned soldier
walked along the street of this land, his land.
 
Visitor fired his gun, and his companion followed suit.
 
Bullets split the dark and bored brown skins.
 
Running back to their post, visitor shouted, "Line up fellows,
the niggers are in here all through these yards."
 
Thus began what ended with more than 200,000 of us "niggers"
slaughtered by our uninvited guests: missionaries of Benevolent Assimilation.
---
Poetry and Plumbing
A little past noon. I read This World: Poems by Harvey Shapiro while seated on a low concrete fence that borders Royal Midway Plaza building and its parking lot. Two utility men wearing dark green t-shirts printed with the building's name approach. They slide off the concrete cover of the manhole, a meter and at a 45-degree angle to my left. It reveals three big pipes and one small one, all bent downward at a 90-degree angle. I close my book and ask, "Sa tubig ba 'yan?" ("Is that for the water?" A coy way of asking, "That's not the septic tank, is it?") The older guy replies, "Yes," and tells me and his companion about fixing the water supply with plumbing jargon. He'll buy a "floater" (yes, I believe that's what he said). Then they leave the manhole exposed (and perhaps with an empty tomb laid at its bottom). I ponder with my book still unopened in my hands.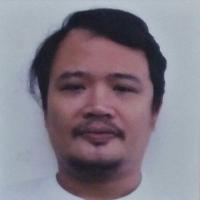 Karlo Sevilla writes from Quezon City, Philippines and is the author of two poetry collections: Metro Manila Mammal (Soma Publishing, 2018) and You (Origami Poems Project, 2017). He has more than a hundred poems published in various literary magazines and platforms worldwide, including Philippines Graphic, Radius, Collective Unrest, Matter, Eclectica, I am not a silent poet, Tuck Magazine, and elsewhere. He currently studies for the Certificate in Literature and Creative Writing in Filipino program of the Center for Creative Writing of the Polytechnic University of the Philippines. Karlo recommends Families of Victims of Involuntary Disappearance (FIND).