Ernie Brill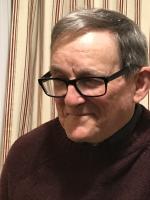 Ernie Brill publishes fiction and poetry widely inn the US and Canada. His pioneering collection about race relations among hospital workers, I Looked Over Jordan And Other Stories, (South End Press, 1980), was optioned by Ossie Davis and Ruby Dee for their PBS television series "With Ossie and Ruby". Ms. Dee adopted and performed Brill's story "Crazy Hattie Enters The Ice Age" to critical acclaim.
Brill earned a BA and MA in English from San Francisco State College and was earnestly involved in the historic five month strike against racism there that won the country's first Dept. of Black Studies,and an entire School of Ethnic Studies.
"Dad, we're on strike. It's crazy here. People get arrested just for looking the wrong way at a cop. And a lot of time it's not just the regular police but this special Tactical Squad that's full of nutcases who LIKE to hit people."
The paddy wagon door opened, the floor white grey the color of seagull shit. There was a small barred window and a metallic bench. As the door closed, six Tactical Squad officers lumbered in, helmets strapped, visors down.