Eli Green sensed he'd get arrested today, arriving at the striking campus early.
In the predawn darkness, he left the trolley he'd taken from the Mission District, then Market Street, under the misting Twin Peaks, and out to San Francisco's Golden Gate State college near the ocean.
Staring at the duplex housing development across the street from the campus, he stood by the administration building stormed last week by tactical squad police with tear gas guns and clubs poised, holsters unbuttoned. Shielding his eyes, he spotted in the development's parking lot, under the streetlights in the starting dawn, four black police paddy wagons. Another Muni streetcar arrived with students chanting and carrying signs: Fight Racism, Cops Off Campus, GRANT OUR DEMANDS NOW! Polly Nelson, a fellow striker, handed out leaflets to the few students going to classes.
As Eli joined the forming picket line, a voice blared from a truck parked on the corner with two huge speakers atop the cabin blared:
"THIS CAMPUS IS ON STRIKE! WE STILL HAVE TEN RIGHTEOUS DEMANDS! WE STILL DEMAND THIS CAMPUS SHUTS DOWN! FIND OUT WHAT IT'S ALL ABOUT. FIND ABOUT OUR NEW ILLEGAL PRESIDENT."
The picket line grew. Some students going to their class took the flyers Polly offered; several angrily brushed past her and jeering pickets.
"SCARED OF A LEAFLET!"
"Come on, it's gonna hurt you to read it? It's gonna kill you?"
"FUCKING SCABS!"
Picketers argued. "Don't call them scabs."
"We`re on strike! Two weeks and they don't know the demands? They`re still going to class, they're scabs!"
"Maybe they're still not sure."
"Screw them."
The speakers bellowed.
"ON STRIKE! SHUT IT DOWN. OUR FIGHT AGAINST RACISM FOR OUR JUST DEMANDS CONTINUES! THE CHICKEN CALIFORNIA STATE TRUSTEE-ROBBER BARONS ARE SO SCARED OF US THAT LAST WEEK, RATHER THAN HAVE ANY DIALOGUE, THEY SHUT DOWN THE CAMPUS AND FIRED THE PRESIDENT. A FLUNKEY IS NOW IN PLACE IN BLATANT VIOLATION OF THE FACULTLY SENATE'S OWN HIRING PRACTICES. THAT'S RIGHT. THE TRUSTEES TOTALLY BYPASSED IT AND HIRED A TOADY FLUNKEY, OUR OWN FREDDIE FUKASHSIMA, WHO GETS MONEY FROM ONE OF NIXON'S BIGGEST FINANCIAL SUPPORTERS. BUT WE ARE BACK. WE ARE HERE! WE ARE NOT GOING AWAY ANY TIME SOON UNTIL OUR JUST DEMANDS ARE GRANTED AND WE CHANGE THE RACISM ON CAMPUS."
The familiar voice was one of his best friends, Jack Goldin, a leader of the white student strike committee supporting the Third World Liberation Front led by the Black Students Union who had initially called the strike for what seemed like lifetimes ago.
The chanting intensified with cadenced clapping. "On Strike Shut It Down! End racism now!"
"HEY HEY HO HO, RACISM HAS GO TO GO"
A group of women, black, white, a few Latinas and some Asians were half-dancing on the line to a sassy staccato chant.
"RACISM'S IMPUNITY HAS NO IMMUNITY"
"IN THIS COMMUNITY IT'S NO LONGER MEANT TO BE"
"That's what we say"
"And we won't go away"
"`Til we end racism now (and HOW!) "
Suddenly, Eli was knocking on the truck door. Jack, microphone in hand, rolled down the window.
"Hey Eli, what's up?"
"Get out, Jack. Let me do it."
Jack gave his special scrutiny as if laying back on a very relaxing sofa while simultaneously sizing him up.
"I got here early. There`s four paddy wagons in the Lake Buena Vista parking lot. Something's jumping off sooner than later. You'll be needed."
"Huh."
Jack turned to his left, pointing. "Eli, this is Juan Chacon. It's his truck. Juan, Eli Singer."
A thin, bronzed guy about Eli's age nodded, his hands alert and tense on the steering wheel. He wore a blue work shirt, very old jeans, and older tan cowboy boots. Jack got out. Eli got in, taking the microphone attached to the dashboard.
"Know how this works?" Jack asked.
"Uh, not really."
"It's simple. Plug it in, flick the switch, and you're on."
The microphone had a small on-off switch even a mechanical nebbish like Eli could figure out. He plugged it in, turned on the switch, and heard his own voice crackle, "THIS CAMPUS IS STILL ON STRIKE." He flung his fist into the air and bellowed, "LET`S SHUT THIS RATHOLE DOWN!"
Eli was startled, hearing his voice reverberate off the entire Humanities building, the sky, the very trees.
"WE ARE ON STRIKE AGAINST RACISM!  JOIN US! WE HAVE TEN JUST DEMANDS"
Juan leaned over. "Don't hold it too close, it gets garbled."
Hearing his own voice elated him, words booming towards the campus buildings.
"WE`RE STILL ON STRIKE FOLKS!  FOR TEN JUST DEMANDS!  HELP US! LET THE ADMINISTRATION KNOW WE WON'T TOLERATE RACISM ON THIS CAMPUS!"
"A PROXY FAKE HAS GRABBED THE PRESIDENCY VIOLATING BOTH THE PROCESS OF HIS OWN FELLOW FACULTY ACADEMIC SENATE FOR SELECTING A NEW PRESIDENT."
His cart-wheeling heart matching each syllable. The Muni Trolley rolled in. Students poured out. Most joined the picket line or tried to talk the few trying to enter the building.
"FELLOW STUDENTS," Eli blurted, "JOIN US! JOIN THE FIGHT AGAINST RACISM! GET THE LATEST! FRED FUKASHIMA ASSUMED THE PRESIDENCY LAST NIGHT IN OUTRIGHT VIOLATION OF THE FACULTY SENATE'S PROCEDURES. WITHOUT A DISCUSSION AND WITHOUT A VOTE!"
Students stopped to listen.
"GUESS WHO'S SUPPORTING HIM?" Eli shouted louder, creating static so Juan motioned him to lower his voice.
"That's it," Juan said.
"RIGHTWINGER CLEMENT STONE FROM CHICAGO, ONE OF RICHARD NIXON'S BIGGEST DONORS, HAS GIVEN FUKASHIMA FORTY THOUSAND DOLLARS TO SMASH OUR STRIKE!"
"NO WAY," the demonstrators shouted, working up a new chant, "NO WAY NOT TODAY. THAT'S ENOUGH FOR TUITION FEES FOR ALMOST ONE HUNDRED STUDENTS!"
"That's it, "Juan urged. "Slam that cabron!"
"40,000 BUCKS. ENOUGH FOR TWO FACULTY POSITIONS EACH FOR BLACK STUDIES AND LA RAZA STUDIES DEPARTMENTS!"
He panted. "AND WERE GOING TO WIN, BROTHERS AND SISTERS. IT'S JUST A MATTER OF TIME."
The students cheered, chanting, "WERE GONNA WIN! BLACK STUDIES! LA RAZA! VENCEREMOS!"
"UNITE AND FIGHT! ON STRIKE! SHUT IT DOWN"
Eli blinked. Sunlight propelled by a flurry of faces exploded around the windshield and side window.  He saw faces and glass–not the windshield–but yes the windshield–but with bits of metal and someone had spilled letters on the right rearview mirror and ABC BS CBA, no no! CBS, ABC, NBC, KPFA.
"HEY, What the–WHAT THE HELL YOU DOING, MAN?" Juan yelled.
Television cameras glinted brightly a pounding on the window continued a contorted furious face with a skewed hat/beret/tamoshanter yellow-white-orange trying to yank open the closed window a face screaming. Eli partially rolled down the window a suited hand tried to grab his face or his ear, clawing hand, scrabbling a grey suit a furious face.
"GIMEMETHATGODDAMTHINGTHATMICROPHONEGIMMEYOUYOUGODDAMCOMMIE GIMME"
"PULL THE MIKE," Juan yelled, "HE'S WHACKO!"
Eli yanked the mike out. The hand disappeared with shrieks then a huge THUD NUCK above his head the metal ceiling throbbed someone jumping trying to crush the ceiling of the cab. Eli pushed the door open, looked up at Fukashima stomping, gloating, hurling flyers, screaming.
"GODDAMIT" Juan yelled, lurching out of the truck and jumping onto the bed, "LOCO, GET OFF MY TRUCK!"
The cameras kept filming, one cameraman stretching on the hood half on his back pointing his camera up to the truck's speakers.
"YOU RED COMMIE PANTHER RABBLEROUSERS DESTROYING THIS CAMPUS! READ MY FLYER! READ MY FLYER!"
Students now surrounded the truck, some climbed up midst a cacophony of shouting.
"FUCK YOUR FLYERS"
"GET OFF THE TRUCK YOU, CRAZY BASTARD!"
"WHAT'S HAPPENED TO FREE SPEECH?"
"GO HOME AND SUCK YOUR DOG'S COCK, ASSHOLE"
"PUT THAT ON TV, PRESS MOTHERFUCKERS!"
Growling, Fukashima yanked on the speakers. Eli quickly plugged the microphone back in and cleared his throat.
"BEHOLD YOUR PRESIDENT!"
"HE'S NUTS!"
"GET OFF MY TRUCK" Juan said.
"SHUT HIM UP!" students shouted. "SHUT HIM DOWN!"
"FUCK YOU FUKASHIMA!"
"DON'T CURSE HIM IF YOU DON'T WANT YOUR TEETH KNOCKED OUT" said a blue-ribboned Fukashima supporter.
"WHO'S GONNA DO THAT, YOUR MOTHER?"
"GET OFF THE TRUCK I'LL SHOW YOU WHOSE MOTHER GONNA DO WHAT"
"MY MOMMA WILL KICK YOUR MOMMA'S ASS INTO NEXT WEEK"
Fukashima had his arms around the speaker, tugging, spittle running down his chin.
"BEHOLD OUR FEARLESS LEADER! HE JUST TRIED TO MURDER A MICROPHONE NOW HE'S TRYING TO HUMP OUR SPEAKERS!"
The crowd roared with laughter.
"WE'RE STILL ON STRIKE! WE STILL HAVE TEN DEMANDS TO END RACISM HERE!"
"I'LL EXPEL EVERY ONE OF YOU!" Fukashima screamed, finding the speaker wires and tugging.
"LEAVE THOSE WIRES ALONE!"
"FUKASHIMA! EICHMAAN!" yelled a teacher in residence, the famed novelist Kitty Doyle who had covered the rise of Nazi Germany in Europe.
"KITTY DOYLE, YOU'RE FIRED!"
"WE"LL SEE ABOUT THAT, YOU THUG!"
The chanting zoomed in volume. "ON STRIKE!  BLACK STUDIES NOW! SHUT THIS MOTHERFUCKER DOWN!"
A group of BSU and La Raza women were sway-dancing with upraised fists.
"FUKASHIMA HE AINT COOL! HE AIN'T RUNNING OUR SCHOOL!"
The sound went dead. Fukashima jumped off the truck, yelling, '"WEVE CALLED THE POLICE ON YOU ANARCHISTS. GET BACK! DON'T TOUCH ME! I'LL CRUSH EVERY ONE OF YOU FILTHY HIPPIES!"
Students kept pushing against him as his supporters tried to lead him away. And now they came: the boys in blue, the San Francisco TAC squad, batoning their way through as if their batons were extra pairs of elbows. A group of faculty members sympathetic to the strike ran up as the sergeant knocked on the window Eli rolled down.
"Get out of the truck, boys. You are under arrest."
A faculty leader, Hal McDermott, put his hands up to the sergeant.
"Now let's not be precipitous, Sergeant."
"What did they do?" asked another faculty member.
"THEY WERE ATTACKED BY THAT MANIAC!" Polly shouted.
"Pursuant to sections 907 and 1043 of The California State Penal Code, you are under arrest for disturbing the peace and-"
"Disturbing the peace!" Polly yelled as friends pulled her back. "WHO DISTURBED WHO? WE WERE FINE PEACEFULLY PROTESTING UNTIL THAT LUNATIC TRIED TO TEAR THE TRUCK APART! WHERE WERE YOU THEN?'
"And operating a sound truck without a permit."
"THAT'S A CROCK OF-"
A paddy wagon rolled up behind the truck.
"Put your arms up against van and spread your legs. "
"FUCKING PIGS!" Polly yelled, in tears.
"Watch the mouth, lady."
"MY mouth? What your so-called dam President? You didn't hear him swearing or see him SPITTING at us?"
"LET THEM GO! WHERE THE HELL WHERE YOU?" the crowd chanted.
Two cops searched them, patting them down.
"Get in."
"You're overdoing this, Sergeant. This is really not necessary."
"Step out of the way, Sir."
The students chanted and yelled; cameramen kept filming.
"LET THEM GO! LET THEM GO"
"WHA'D THEY DO? WHA'D THEY DO?"
 "YOU GOT THE WRONG ONES! LET THEM GO!"
The Tactical Squad tensing, batons chest-high, formed a ready-to-shove line by the paddy wagon.
"Why don't you arrest Fukashima, goddamn it?"
The paddy wagon door opened, the floor white grey the color of seagull shit. There was a small barred window and a metallic bench. As the door closed, six Tactical Squad officers lumbered in, helmets strapped, visors down.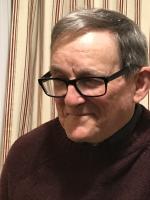 Ernie Brill publishes fiction and poetry widely inn the US and Canada. His pioneering collection about race relations among hospital workers, I Looked Over Jordan And Other Stories, (South End Press, 1980), was optioned by Ossie Davis and Ruby Dee for their PBS television series "With Ossie and Ruby". Ms. Dee adopted and performed Brill's story "Crazy Hattie Enters The Ice Age" to critical acclaim.
Brill earned a BA and MA in English from San Francisco State College and was earnestly involved in the historic five month strike against racism there that won the country's first Dept. of Black Studies,and an entire School of Ethnic Studies.