"The Toast," "Animal Farm," and "Grids / lock"
The Toast
Shortly, & with
little warning, the
pools of hypocrisy
ice over & become
malevolent. We are
back in St Petersburg,
never having been
here before, but I
recognize the
ghosts. "Such pretty
lizards," she said, then
raised her glass in
the general direction
of the sky. "Za vashe
zdorovye." It was
a formal toast. No
story followed.
---
Animal Farm
It's the cantaloupe
for sure—all the
other animals have
been locked up for
the season, served
decaffeinated tea & do-
nut holes, listening to
piped Berlioz—but we've
rung the paleontologist
just in case. Evenings
are like that. Forms
dismembered &
rearranged in a
different order, a
new light cast, things
picked up after several
decades absence, their
corpses pored, pawed
over. I'd never really
thought about it
before, but it's the
obvious in Eliot that
gets me angry, "coming
over the Starnbergsee"
indeed, as if there
were some other
direction to arrive
from, light rain or not.
---
Grids / lock
street
The Delta Music Store. Maybe a month before the mangoes ripen. In a crossword puzzle the streets would be the down columns. Poltergeists lived in the walls of the room in his mind called memory. The sound of lawnmowers. Solar panels. What is the opposite of furious? He lay on a daybed trying to find connections between words that sounded similar but had no overlapping meaning. The smell of diesel engines is not masked by the trees. Proust.
avenue
A simple numeric. Trees have grown up to hide the passing trains. He hesitated after using the word "aura." Cane thrash or cane trash? The avenues run on a north/ south alignment. The smell of last week's fumigation was still strong, especially under the house. What there are in the way of shops close early. Everybody was being diverted away from the scene of the fatal accident. He wondered if it was inspection or introspection that had brought him here. An evening burning. At least there was highway noise.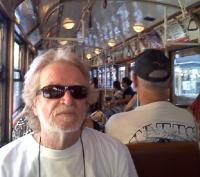 Mark Young's first published poetry appeared over sixty-two years ago. Much more recent work has appeared in RIC Journal, Scud, Ygdrasil, Mobius, Offcourse, SurVision, BlazeVOX, Don't Submit!, & Word For/Word. Mark recommends the Sea Shepherd Conservation Society.