The Fine Art of Full Body Swimming
Lengths
A shallow water blackout is a loss of consciousness caused by cerebral hypoxia.  It typically happens at the end of a breath-hold dive in shallow water of less than sixteen feet.  Victims are commonly practitioners of the breath-hold diving and are strong swimmers.  Several drownings occur among swimmers who black out underwater as they are free diving or swimming laps while holding their breath.
Though the mechanism is well understood it is not common knowledge among breath-hold swimmers and divers.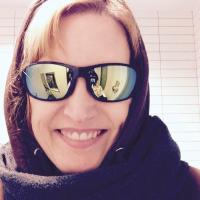 L.B. Sedlacek has had poetry and fiction appear in different journals and zines.  Her first short story collection came out on Leap Day 2020 entitled Four Thieves of Vinegar published by Alien Buddha Press.  Her latest poetry books are The Poet Next Door (Cyberwit), The Adventures of Stick People on Cars (Alien Buddha Press), The Architect of French Fries (Presa Press) and Words and Bones (Finishing Line Press).  She is a former Poetry Editor for ESC! Magazine and co-hosted the podcast "Coffee House to Go." LB also enjoys swimming, reading, and playing ukulele.  She recommends the Caldwell Humane Society.