The Fine Art of Full Body Swimming
Water Polo
I was getting used to the nights, the lights and all the strange formations on the mountains and the stories and rumors and plain old ghost stories none of which I believed.  I knew the mind played tricks in pitch black Santa Fe nights with the stars twinkling in the dark sky.  The mountain was one of the few places I had ever seen stars.  The nights were cold and clear but in the heated snow cab and at the base station and mid station dog house where we'd stop to fill up on hot chocolate or coffee, it was comfortable.  I had never grown anything never nurtured anything never schooled anything but I found that I liked working with the snow molding it for terrain or easy or advanced skiing trails.
When the nights were over we left our cold weather clothing in our lockers and headed out for a big breakfast.  I'd go home and sleep for a bit and then Jeneva would meet me at the pool.
I'd only managed to do a minute and a half under water before I'd panic and have to come up.  Jeneva offered me a pool weight, flippers and hand weights which worked to keep me down, but didn't work on my mind.
Jeneva understood it.  I was still trying to understand.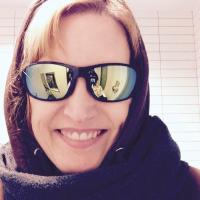 LB Sedlacek has had poems and stories published in a variety of journals and zines. Some of her poetry books are Swim (Alien Buddha Press), I'm No ROBOT (Cyberwit), Happy Little Clouds (Guerilla Genesis Press), Simultaneous Submissions (Cyberwit), and Words and Bones (Finishing Line Press). Her first short story collection, Four Thieves of Vinegar & Other Short Stories came out on Leap Day 2020 from Alien Buddha Press. She also served as a Poetry Editor for ESC! Magazine and published the free resource for poets, "The Poetry Market Ezine," from 2001-2020. In her free time, LB likes to swim, read and attempt to play the ukulele. She recommends the Caldwell Humane Society.