"Prayer" and "Literary Matters"
Prayer
Nobody's walking on water
and the herd needs thinning.
 
We have had enough of your cross and blood.
 
Have you had enough of ours?
 
Can we now burn your temples?
Can we chase away the preachers
who would see the earth burn in your name?
 
The money changers were only the future.
 
There was always a light of the world
but no one saw it true. Now look at us.
 
There was always a light but you eclipsed it
and now your people bathe in our blood.
 
And now your people are fat and stupid
with their whips.
 
Nothing changes.
 
The Romans had it right. Bring on the lions.
---
Literary Matters
In some small book
on a shelf
 
in a house
no one visits
 
in some small book
no one will ever read
 
there is a poem
written about you
 
in a town where people
have given up
 
there is a poem in a small book
and that poem tells your fate
 
a brief poem
of haphazard music
 
in a house on a street
no one ever knew
 
but it is there
waiting
 
this poem written
only for you
 
it is there
this poem on the shelf
 
and in the house
waiting forever
 
decorating your dreams
and adorning the desperate pages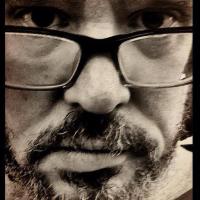 Jeff Weddle feels the walls closing in. He looks forward to someday again breathing the fresh, clean air of a sane and safe America, though he is not foolish enough to hold his breath. He is the author of eleven books, most recently Good Party (Poetic Justice Books, 2020). Unlikely Books published his Citizen Relent in 2018. Jeff won the 2007 Eudora Welty Prize for Bohemian New Orleans: The Story of the Outsider and Loujon Press (UPress of Mississippi). Like most everyone, he is past ready for this hell to end.