"Outskirts" and "Maybe Only Trees"
Outskirts  (from Fragments)
                                                   for Daniel Dennett
I
am an outskirts native. the city, yes its breathing flesh, but
urban's somewhere between lost and found and flay and wander
smeared on forest, where civilization remains ruins. in a
city poem, years ago, she (who?) wrote "the hip's the hub."
I
sympathize with horses, who unrolled the plains. grass grew wide
in their tracks. yes, it's an odd world, Dan, beyond our reasons.
might as well count violets, weigh wind, chart the angle of an eagle's glance,
ask which nuclear bomb the US used to blow holes near the Colorado River.
I
revere our native god the Colorado. natural gas lies underground nearby.
they never piped it out—bombed, it glowed too unkitchen (did I say "reason"?).
still, water's silver marks the map our feet read—mild earth, plowed brown
seeps down to a core's brutal red. which core, how heartfelt?
I
respect spiders, whose webs outsteel ours, try to embrace cusp,
each footstep. or is that just my seem, spume of expectation? splinter mere
of each atom holds the double helix paradox of stillness as motion,
the two in one, the 10,000 on a pinhead, so please Dan, carve me a table
I
still remember beds of violets, though so much has evaporated beyond
those first high-kite clouds, tree mansion myths, snapblur whirl of willow.
water articulates intricacy, the maze thickets into cave and flies apart,
and they know—do you know what I mean, Dan?—more than me.
---
Maybe Only Trees
Maybe only trees will be left,
with their merciless companion, fire.
And the lapping seas, warmed, to intercede.
Insects, earth worms, algae.
Morning fog still draped on coastal hills.
No sound of traffic on the crumbled highways.
No nightly grid and chain of lights to blot
midnight's mist, far jubilation of the stars.
Ice fingering its way to water.
And the great globe, spinning.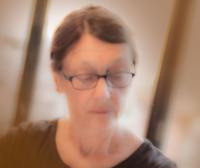 Tobey Hiller is the author of six books: a novel, four collections of poetry, and, most recently, a book of short stories, Flight Advice: a fabulary, just out from Unlikely Books. Her poetry and flash can be found in a variety of magazines and journals, online and off. She thinks the rivers are telling us something. Tobey recommends Doctors without Borders.