"On Road 30" and "A Feeling"
On Road 30
That's what I needed. 
Foot brake, parking brake.
Shift after stop.
The falling sunlight
on the car's body
makes me dizzy.
I sit in dripping sweat
The afternoon is towering
We turn at the Death Curve,
- how could you have simply left me
inside my memory
telling me meaningless sentences
journey after journey, maybe 
because I'm still young
Sometimes 
on the road alone
neither far nor close to each other
We turn again after the death curve
---
A Feeling
your stare at poppy-seed sized people
saying farewell
while you rule your seat
in the power of the fifth gear
sinking deep in your senses
 
There are red clouds on the horizon,
reflections in the setting sun.
Your trip, your sped up present
escape to a certain future
followed by white lines
road signs, that are not important now
 
Rushing in physical reality,
followed by your heartbeat,
a drum beat inside your eardrum.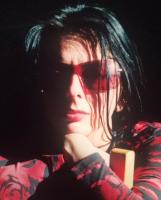 Zsuzsanna Peremartoni currently lives in Budapest. She wrote her first poems at the age of 16. At the age of 23 she lived and worked in Germany as a ceramic assistant. Exhibited in Helsinki, Vienna. Her first volume was published in 2016, followed by four more volumes of poetry. In 2018, she was the producer of a jazz poetry CD release. She has been listed in USA, as a next-generation beat poet since September 2020.
Her own CD was released in February 2021 in memory of Australian poetess Judith Wright. Poems with a didgeridoo accompaniment.
She also had two photo exhibitions in 2020 and 2021 in Budapest.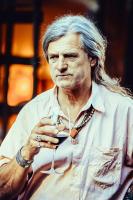 Gabor G Gyukics (b. 1958) is a Hungarian-American poet, jazz poet, literary translator born in Budapest. He is the author of 11 books of original poetry, 6 in Hungarian, 2 in English, 1 in Arabic, 1 in Bulgarian, 1 in Czech and 16 books of translations including A Transparent Lion, selected poetry of Attila József and Swimming in the Ground: Contemporary Hungarian Poetry (in English, both with co-translator Michael Castro) and an anthology of North American Indigenous poets in Hungarian titled Medvefelhő a város felett. He writes his poems in English (which is his second language) and Hungarian. His latest book in English is a hermit has no plural (Singing Bone Press, 2015). His latest book in Hungarian was published by Lector Press in May 2018. Photo by Sándor Gyapjas.