On reading Larissa Shmailo's "Sly Bang"
If you are looking for something to get out of your ordinary line of  thinking, Larissa Shmaillo's Sly Bang ought to do the trick. The book is a psychological sci-fi filled with non-sensical gadgets, absurd dialogue, and all out madness, a batlle royale of good against evil, of womanhood against male perversion that follows William Burroughss Naked Lunch in reverse, if we consider the gender roles of the protagonists. Lovers of Nikolai Gogol's Madman's Diary, and Samuel Beckett's Waiting for Godot and Frantz Kafka's stories will also enjoy this book, as opposed to religious and concrete minds, who, by all means, should  stay away from a book like this. Things pop out of nowhere. Characters have multiple personalities that change right before your eyes in ways that make complete sense in the universe created by Shmaillo,but would otherwise make absolutely no sense. And the language, disguised in a veil of blatant grotesquerie, will need a subtle reader to decipher its gems and eloquence. The novel is hilarious, gruesome, repulsive, pervasively perverse, sadistic and moral like a Rick and Morty episode and the story takes place in a building of 300 floors going down, reminiscent of a concentration camp. Nora the protagonist is trying to save the world from an army of sadistic Nazi perverts with whom she is also in love. Other notable characters of the cast are: Michael, her lover, helper and serial killer, Ouspensky, the leading antagonist, sociopath, indiscriminate rapist and also her lover and Larissa, Nora's interchanging alter ego, and also the supreme ruler of all of Russia. The only thing that seems linear in the novel is the progression of time.
Here are a few hidden gems from the novel, quotes that confess our human tragedy, spread throughout the madness of the book:
"Interesting idea here about false identity, on a spectrum, in all of us, the ego as opposed to the true self. Survival identities shed in recovery to reveal true being and oneness with God. We are all false; who am I to judge?
"Is it evil to destroy evil?" (p65)
 "AS I SEARCH MY HEART I SEEK FOR SOME EMBER OF WHAT I ONCE FELT AND I FIND ONLY SORROW GRIEF DISGUST AND SHAME… I AM SEEKING HELP FOR MY ADDICTION TO YOU SO THAT I DO NOT LAPSE INTO FANTASY AND A STUPOR OF NOSTALGIAC RECALL." (p66).
"Michael burst into Hawk's office and shoved the plate of macaroons into her face. He grabbed Nora and began the ascent up 300 flights. It took him 50 flights to realize that Nora, his Nora, was in his arms.
This is holding a real live girl, he mused. This is much better than oatmeal. Even better than hot, if that were possible.
Michael's energy surged and he flew up the stairs. But by -201, Michael felt his energy drain.
I can't carry her another two hundred flights, he realized."  (p69)
""the mind cannot bear a hurt too great to the heart" (p124)
The effect on the reader, is one of  surprise and shock. The author cleverly interweaves poems in the novel as passages from the main character's journal. The interlude, a historical anecdote about Nora's parent's during WWII and her ensuing upbringing, comes in the middle of the story to ground the reader. We are told of accounts of concentration camps and of an unlikely story of survival not as predictably drenched in heroism as it is in betrayal. This second part of the novel surprises as it is told in screenplay format at first, before reverting  back to an ordinary past tense narrative with a 'normal' progression. The anecdote traces back Nora's origins. Along this second part, the sprinkled poems and passages confess  personal feelings, musings, and history of the main character, revealing her troubled upbringing and unsuccessful first marriage. But afterwards, the book goes back to its madness. The chaos continues, and our protagonist is once again trying to save the world. In its exploratively chaotic style, the story comes across as a description and metaphorical answer to quotidian psychopathology. It is a novel in which you can enjoy your own madness, if you are in that mood, but it does so in criticizing outdated masculine behaviors and championing female flexibility. It is a highly entertaining book and worth the read.
"We women will never forget. Those who do not remember history, as those of us who have been drugged and tormented and raped and pissed on and STILL REMEMBER ... I don't even have words for the contempt I have for you predators." (p178).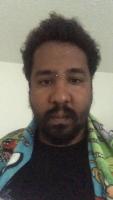 Darryl / Dadou / Baron Wawa is a Port-au-Prince born Haitian-American who studied Photography and Creative Writing. He enjoys chocolate and good books. That said, maybe a movie is a good book. He loves to work with images and words and their pairing.