"It's been five hours," Spencer said. "You're going to have to return those calls at some point."
Karynne muted her video of Dame Judi Dench popping and locking on a halcyon heath. "Why should I? I don't recognize half the numbers. It's probably the news."
"It could be work."
"I don't care, Spencer. Whoever it is, whether it's the news, work, or God himself, they'll just have to wait." She slid her phone across the counter, taking a pyramid of K-Cups down like ten pins. "Gah! Will you just get off my case a minute? I need some time to think. Alone."
"Fine. Of course. I thought you were watching TikTok." Spencer retreated to the door that led to the garage. "I'm just trying to help."
"I don't need your help!"
"All right. Geez. If you change your mind, I'll be out here."
Karynne rubbed the legs of her white satin pajamas. "Spencer."
He turned, sighed. "Yes?"
"Whatever you do, don't tell Axel and Maverick. Please. Not yet. I want to figure some things out first."
"You have my word."
A door burst open from the second floor and Axel, eight, and Maverick, six, tumbled down the stairs, giddier than they'd been since Christmas. The elder hoisted up an iPad, on which his mother was shrieking into her phone and giving the bird to a bounce house.
"Look, Mom, you're on TV!" Axel said. "They said you're fired!"
"What's a racist, and am I one, too?" said Maverick.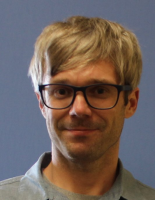 Josh Cook is an MFA candidate at Lindenwood University. In 2009, he earned an MA from Indiana University with a thesis on Kurt Vonnegut's The Sirens of Titan. His fiction has appeared in journals including Across the Margin, Fiction Kitchen Berlin, Idle Ink, and Sage Cigarettes. He lives in Indianapolis with his wife and two dogs. Josh recommends the Kheprw Institute.