Alfred devised a game. Gamification is a thing, isn't it? With each rejection, each e-mail unanswered, each telephone call in which he was scoffed at or politely rebuffed, each letter to the editor or editorial turned down by a newspaper, magazine, or online site, each time he stood up and spoke at a public forum and drew blank stares from a crowd like a flock of sheep without a shepherd, he would drink a beer. This was strange, since he had never been much of a drinker, just had an occasional glass of wine, had only gotten really drunk a couple of times in high school and once in college when everyone was doing it to be cool.
At one meeting about installing bike lanes, a member of the Sierra Club argued that the lanes were needed to get people out of cars, while a civic association opposed them since they would slow down traffic and might take away parking spots. Then Alfred gave his usual spiel. "Local bike lanes are a small step and we need them. But we need so much more. We need to respect the Earth. Be ye Christian, be ye Jewish, be ye atheist, Buddhist, spiritualist, you need to realize that the Earth is our mother. If you believe in God, we need to respect the planet God made. If you believe in evolution, we need to respect the wondrous nature that made our very lives possible. Please sign this sheet and I'll contact you. We'll start a great movement and change the course of history. It may seem impossible, bizarre, but it has to start somewhere. History is always made by a tiny group who decides to act."
"Well, we've heard that before," said the Mayor, her eyes blank behind a huge pair of glasses. By now she was used to Alfred popping up at meetings. "But we've got to address the matter at hand."
"You know in your heart that what I say is true. If I repeat it enough, people will join."
For the second time in a row, nobody responded. The most that had ever signed the list—or responded via e-mail or phone—was three. Almost always, those that did respond ignored his follow-up e-mails and calls or answered once or twice then disappeared. One young man with a scraggly beard had engaged in a series of long discussions over the phone, but on the second call he announced that Jews were destroying the environment to sap people's will and further world domination. By the fourth call, He and Alfred got into a screaming match, and that was that.
Following the meeting with the condescending mayor, Alfred drank a whole six pack, then puked it all over the kitchen floor, a thin gruel that Eva left for him to clean up the next morning.
"This can't go on," said Eva, after Alfred's second warning from his boss. Eva had been looking increasingly gaunt and stressed after more than two years of isolation. The first year of the pandemic, they had taken frequent walks together, enjoying the budding trees and blooms of spring, winter's white frost. Years earlier, during the wondrous first days of their relationship, Eva remembered Alfred's joking that he had been born of her rib, that he had never really felt alive before. That conversation seemed so long past that perhaps it had never happened?
In the long, hot summer of Alfred's new obsession, the walks had all but stopped. Even as, following the vaccinations, society opened up again, at least somewhat, the two often remained cooped at home, more and more in separate parts of the house, Alfred listening to political podcasts, Eva reading. Nowadays, Eva increasingly walked alone and, on particularly hot days, or in the rain or snow, just stayed home, pedaling a stationary bicycle lethargically to nowhere.
Since the wildfire, Alfred had a new hobby. Besides Eva's thrillers and romance novels, the house had scant books, alongside piles of political magazines—Mother Jones, the National Review, the Economist—from Alfred's many years of obsession. The living room did have a few books on leadership and self-improvement that he had long ago sucked dry of whatever wisdom they held. And it had two enormous volumes: a single Bible in a modern English translation—although the couple rarely went to church—and a compendium of world mythology, with colorful pictures, maps, and historical timelines, that they had received as a wedding present but barely cracked the cover.
"I'll bet the real leadership secrets are in these two volumes," Alfred had thought. "How did Moses do it? How did Jesus do it? And what about the ancient Greeks? How did Zeus keep the gods in line? There must be a lot of other amazing leaders that I haven't even heard of among the world myths." Besides, if he wanted to start a great, global movement, it was best to know the religions and spiritual practices that had so moved humanity.
So Alfred told himself as he began to read these books obsessively. Or perhaps he just needed a distraction? He could no longer stand the news that only got more wretched with every passing day, every new strain of Covid, every particle of erosion to democracy, every outrage from politicians bearing guns and spewing stupidity, every flood or heat wave, every mass shooting, each new war, as though history were being written by some insane author desperate for new plot twists, perhaps a teenaged punk writing alternative history
The myths and Bible stories, in a way, mirrored what was happening today. People being selfish and foolish, punished by God or the gods, or suffering through no fault of their own, because the gods were fighting or jealous or annoyed by humans. Well, Alfred had come to believe, we are an annoying species. Perhaps we deserve to be slain by the sword or drowned or burnt alive? It all kind of helped Alfred make sense of the present day—like Moses on Mount Nebo gazing down at the Promised Land, like Gilgamesh from the walled city of Uruk at the end of his life looking backwards, he could glimpse the grand sweep of events. Maybe there was a plan? If so, it was passing Alfred by. He was no part of it.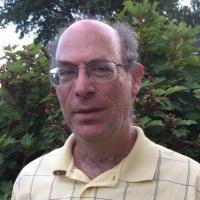 Ethan Goffman's first volume of poetry, Words for Things Left Unsaid, was published by Kelsay Books in March of 2020.  His poems and flash fiction have appeared in Alien Buddha, Ariel Chart, BlazeVox, Bradlaugh's Finger, Burgeon, EarthTalk, The Loch Raven Review, Mad Swirl, Madness Muse, Ramingo's Blog, The Raw Art Review, Setu, Verse Virtual and elsewhere.  Ethan is co-founder of It Takes a Community, a Montgomery College initiative bringing poetry to students and local residents.  He is also founder and producer of the Poetry & Planet podcast on EarthTalk.org.