"Mama's Got to Work," "Zephr," and "There Is Fire"
Mama's Got to Work
Mama's got to go now, children,
Mama's got to go.
 
The streets are filled with silver, children,
and Mama's got to go.
 
The men will buy us bread and milk
and maybe a little wine.
 
Mama's got to go now, children,
and bring home something fine.
 
Mama's got to go to work
and won't come back alone.
 
Mama loves you very much.
 
Don't make a sound
when I bring them home.
---
Zephyr
It's like a photograph
of a little boy, circa 1963:
striped shirt, crew cut.
He's wrapped around his father
as the father reads the funny pages.
Tiny fingers drape that big neck,
caught forever in vivid
black and white:
You can feel the smiles.
You can read the laughter.
---
There Is Fire
Each secret is ancient
and fills us like smoke.
 
Finally we walk with others
dressed in black clothing
and most things become stone.
 
Each lie has been told forever
sometimes to trusting eyes
sometimes to eyes more knowing.
 
Do not think yourself clever.
 
This is only the music
which puts each of us
to our tasks
and you play it just passing fair.
 
Each secret is the beauty
we allow to wither alone
 
as we become smoke
and vanish
like silly promises
of love and always
in the vast and hungry
empty
burning night.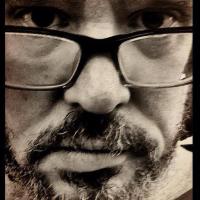 Jeff Weddle is a more or less reasonable human being. He is the author of nine books, and co-author of one other. He mostly writes poetry, but fiction and non-fiction sometimes escape. His most recent books include Dead Man's Hand (Poetic Justice Books, 2019), A Puncher's Chance (Rust Belt Press, 2019), and Citizen Relent (Unlikely Books, 2019). He won the 2007 Eudora Welty Prize for Bohemian New Orleans: The Story of the Outsider and Loujon Press (University Press of Mississippi, 2007). Jeff teaches in the School of Library and Information Studies at the University of Alabama.