geographies: "7th Arrondissement, Paris," "Tumbes, Peru" and "Penonome"
geographies: 7th Arrondissement, Paris
There's been an endless
amount of vibrating
movement lately,
possibly because
they've finally learnt
how to download infinity
into tricoleur jelly crystals.
---
geographies: Tumbes, Peru
Spurred on by his
beautiful companion Elvira,
 
Pizarro has bitten the home
decorating bullet, has put
 
a hot dog alongside that
beautiful Spanish mirror
 
over the fireplace & believes
it will make the place
 
look simply gorgeous. &
this is just a curtain raiser,
 
a small taste of what is to come.
---
geographies: Penonome
One of the film's main musical
themes was illegal, the group of
upper-level undergraduates in
geography, sociology, & Chinese
 
traditional cuisine shown in a
rather candid off-road perform-
ance spectacular supplemented
by the ontological resources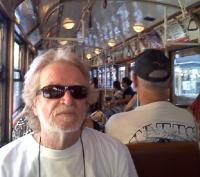 Mark Young's most recent books are a collection of visual pieces, The Comedians, from Stale Objects de Press; turning to drones, from Concrete Mist Press; & turpentine from Luna Bisonte Prods. Mark recommends the Sea Shepherd Conservation Society.