"Electromagnetism" and "Warmth and Shelter"
Electromagnetism
A body
at a                   distance
        in the water
It rained
               gently
I had come
      to the beach
to photograph
a storm
with no real
                luck
And there she was
Brave, I thought
             the summer water
was warm even with the
                       drizzle
that stung
heavy grey clouds
choked
the sky. Light
snuck
    unevenly
from the
horizon
                         and thunder
                                                growled
                                                            intermittently, quick
                                                                                       flashes
slow
in
pace
            to think that
   a glance
had pulled me  
then
a wave
of nervous excitement
                               then a
natural
ease
in how we talked
         touch
a little
             pudgy
   flexible
like I could
          mold her
   with my hands
from belly
to
   buttock
    green
  eyes
  staring at me
behind sharp
freckles
      the smell
   of salt 
and it's
           burn
and she like  
        milk
         in this steadily
moving
                                     sea
Curtained by the
   storm
the world
    behind us
disappeared
       that day.
---
Warmth and Shelter
My grandfather
was  more like a father
He smelled of the earth
and woodsy men's cologne
and lifted me
like a little monkey
on his strong biceps
that bulge
I had always wanted
                                                              I could never be that man
I was nine
when he was murdered and
never saw his stab wounds
just ashes
in an urn my mom kept
I guess memory works
like dust
             She got worse after his death
My father
is an accountant
who lifted weights
rode a motorcycle
and plays the saxophone
mechanical
in his method
In our one bathroom
we showered together
sometimes and I loved
washing the soap off
his muscular
and strong shoulders
smooth and tight
with small rainbows
and bubbles from the sunlight
that came through the window
Those shoulders never
shielded
me from my mother's
tight
clench
that dug deep
in the skin
of my arms
that raw
burn from her piercing
nails or the scissors
thrown
the scar by my knee
the pulse in my head
from her beating
fists or
the telephone receiver
the broken dishes
from her many
fits
                      The fear
Those shoulders
were never a shelter
but once my home
when he still played and loved
carrying me
on his back
Those shoulders
that became
a hard wall
Those shoulders that banged
my mother against the closet
as I hid to watch
Those shoulders that
turned away
from her
from us
time
and time
again
when my world
was still discovery
                                            I can hear her wailing
There was warmth
sometimes
on the couch
Friday nights
movie nights
me in between them
and my baby brother
safe
with the smell
I would recognize
as the smell
of my family
or when we
drove up
to the mountains
orange earth
local food
and the smell of pines
I would huddle
against my mother
from the cold
                                  her warm embrace
The beatings eventually
stopped
too late to save me.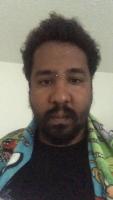 Darryl / Dadou / Baron Wawa is a Port-au-Prince born Haitian-American who studied Photography and Creative Writing. He enjoys chocolate and good books. That said, maybe a movie is a good book. He loves to work with images and words and their pairing.