"Before New Moon," "Eyes Blossming" and "Flood"
Before New Moon
Open your window,
throw your ennui out,
which consumes itself
through the depths of your house
the center of your chest
slowly making
memories pervious…
Cut it out completely,
give room to those
still with you.
Give room to the facts
that are all around
slowly constricting your
perforated existence.
Let your ancient pain
rise to the surface
let your wrinkled
face shatter.
Let the sound
rip through yourself.
---
Eyes Blossoming
If your decision won't let you rest
enter the hall of attention,
turn the portraits inward, your
fragility with your ancestors
will hold you together.
Ask as you await the inevitable
fall, eyes blooming on the tender wall
which time has separated,
now enters you… From the leaking
abyss of perception gas spreads
around gets under your skin
and you fall from vision to
vision. This blossoming then
withering of nocturnal pupils'
circling inside you. Already past
pictures enough for decades
crush & crumble in seconds
dissolve, as soon as you reach
another point of levitation
you faint into luminous
silence.
---
Flood
Again, the morning finds you at the river
looking at your bare feet deciding to
glide through the new day,
whatever may happen to the distant dead,
you're ticking on, crackling with visibility
The way light climbs, climbing on the stones
of the road, a tower clock's following
the awakening horizon, yet the bones
sleep in the shade by western walls
without smoldering.
Colors return to a sky of the awakened
as you bend to water full of snakes.
Reencountering yourself between
your palms, submerging your disavowed
face into your human face.
Straining yesterday's feelings through
your web of fingers.
You freed a pigeon who died that morning
with an unfathomable message from
thousands of miles away tied to its leg,
exhausted from flight, the bell clanged
the previous dusk above you.
Certainly, you cannot seal this broken skull
which fell at your feet with jerking
wings, yet you might make death a little easier.
Cranial cracks, muscles no longer moving,
yet this pigeon was a foreign gray god as
you colored the early morning river
red with its blood.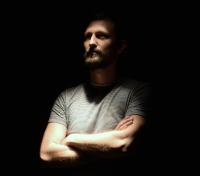 János Áfra is a Hungarian poet. He was born in Hajdúböszörmény (1987), he currently lives in Debrecen. He studied visual arts, literature and philosophy at the University of Debrecen, where he is an instructor at present. He has published three books of poetry: Glaukóma (Glaucoma) in 2012; Két akarat (Two Wills) in 2015; Rítus (Ritual) in 2017. Áfra was awarded two Hungarian debut prizes and other prizes. He wrote one theater play which premiered in 2014. He is the editor-in-chief of KULTer.hu and editor of Alföld literary magazine. He writes essays and art criticism.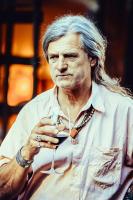 Gabor G Gyukics (b. 1958) is a Hungarian-American poet, jazz poet, literary translator born in Budapest. He is the author of 11 books of original poetry, 6 in Hungarian, 2 in English, 1 in Arabic, 1 in Bulgarian, 1 in Czech and 16 books of translations including A Transparent Lion, selected poetry of Attila József and Swimming in the Ground: Contemporary Hungarian Poetry (in English, both with co-translator Michael Castro) and an anthology of North American Indigenous poets in Hungarian titled Medvefelhő a város felett. He writes his poems in English (which is his second language) and Hungarian. His latest book in English is a hermit has no plural (Singing Bone Press, 2015). His latest book in Hungarian was published by Lector Press in May 2018. Photo by Sándor Gyapjas.