"Alchemy of Night: A Bywater Duet" was a two-woman show in New Orleans in December, 2019, featuring paintings by Moira Crone and photographs by Leona Strassberg Steiner. A selection of this show's works is below.
Artist Statement
by Moira Crone
In all my work I am moved by the principle of palimpsest: that under every mark there is another mark, that we are always writing over the old with the new, and seeing the new in what is left over from another time, another season of meaning.  Life in New Orleans is a constant reminder that the past isn't even past.
I often edit my paintings the way I edit a story. When I use water soluble oils, I wash the canvas and paint the ghost, finding new images in what was left behind.  The German Expressionists, Chaim Soutine, the Nabis, and James Ensor as well as others have been an inspiration to me.
 In my mixed media collages, I use acrylic, collage and oils on canvas. I often wash down the original images and cover them over with new ones, so that the viewer of the final piece can see what was half-erased, what lingers, from the earlier versions of the work, the ground.  In the current Alchemy of Night Series, I took photographs in the Bywater neighborhood---a collage and palimpsest itself of architecture, history, haunted, and illustrated places--- and altered and drew from the photos to make new visuals. I combined the images with painting and drawings to render the feeling.  I have been inspired, and indeed, started this series in response to Strassberg-Steiner's remarkable nocturnal images, her night collages of trees, eaves, houses, windows, secrets, night sky, moving, roaring trains.  At all times I have tried to render a sense of the past present, and the soul's memory made visible, in this rare part of America, of the world. I have been inspired by Romare Bearden, Jean-Michel Basquiat. I have been moved by the painted environment of our neighborhood. I have relied on  African and African American art for its music and ever-present principles of juxtaposition, sampling, spiritual intensity, and energetic play, as well, for this exploration. 
Artist Statement
by Leona Strassberg Steiner
Since coming from a professional modern dance background, I have always worked in a group, a pack, and herd. Always felt most comfortable working alongside other artists, while also having very strong projects of my own.
Many years later that yearning continued here in New Orleans, creating an artist collective Catalyst Collective New Orleans. There I was hoping for much collaboration to happen among its members. Unfortunately not all artists work collectively, which was evident when we disbanded.
Curator David Breslin, from the Whitney in New York recently singled out my collaborative spirit in my approach to portraiture, and my models, in the recent Louisiana Contemporary Show at the Ogden Museum of Southern Art, which he judged. He saw my practice as exciting, and emblematic of Louisiana's community of artists in general. He praised the welcoming, open, and multi-disciplinary sharing that he found in much of the winning work. 
Continuing with my collective spirit, I asked Moira Crone, a painter, a well-established writer and dear friend, if she would like to work collectively on a project for PhotoNola 2019. Thankfully she said yes and the past eight months have been transforming. Looking at all the images on the gallery wall in various configurations had us both amazed, as we continue on our collective path.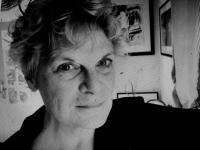 Moira Crone is an artist and writer living in New Orleans. A former director of a creative writing MFA program, and author of seven books of fiction and over fifty published short stories and essays, she has always painted and studied painting when not engaged in a writing project.
She was born in Goldsboro, North Carolina and studied art and writing at Smith College. After graduating from the Johns Hopkins Writing Seminars she took a job in the writing program at Louisiana State University, where she taught for over twenty-five years.
In 2017, after confronting health issues and an extended stay in Paris, she began a serious studio practice in painting and collage. Her works have appeared in juried shows in New Orleans and the region at Lemieux Gallery, Politico Pop-Up 2018, and in a two-woman show, Alchemy of Night, at the 928 Julia Gallery in 2019, and in the 2020 summer group show, Perseverance, at the Second Story Gallery.
Her fiction has brought her an NEA grant, a residency at the Mary Ingraham Bunting Institute of Harvard/Radcliffe, The Robert Penn Warren Award from the Fellowship of Southern Writers, and recognition as a finalist for the Philip K. Dick Award, an international prize for science fiction paperback of the year. Her book The Not Yet, set in a future flooded New Orleans, has been taught in classes on Eco-Criticism, political science, literary decadence, and speculative architecture classes.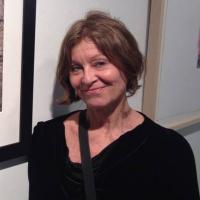 Photographer, printmaker and former dancer Leona Strassberg Steiner has lived her life half in Israel and half in the United States. Steiner has exhibited her photographs and prints extensively with solo exhibitions of her work at The Victory Hall Drawing Rooms of Jersey City and the New Jersey City University Visual Arts Gallery. She has participated in many group exhibitions in Spain, California, Illinois, New Jersey, New Orleans, and New York. Steiner was active in the art scene in Jersey City, where she was a frequent collaborator in projects such as We Are 6 at Alley Arts, her self-run studio/atelier/gallery. In 2016 she co-founded Catalyst Collective New Orleans. Leona recommends the Innocence Project - New Orleans.