C.L. Liedekev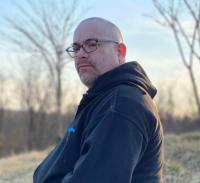 C.L. Liedekev is a confirmed poet who lives in Conshohocken, PA, with his real name, wife, and children. He attended most of his life in a Southern chunk of New Jersey. His work has been published in such places as Humana Obscura, Red Fez, MacQueen's, Hare's Paw, and River Heron Review, amongst others. His poem, "November Snow. Philadelphia Children's Hospital," is a finalist for 2021 Best of the Net. C.L. recommends Be the Match.
At 40 miles per hour, everybody splits open.
Thighs and dreams and hands holding signs
about lives and rights and histories.