"Yelahbuga," "On the Fall of the Tyrants," and "New Moon"
Yelahbuga
Tomorrow Pasternak dies
in Peredelkino, where on his grave
we spent our youth
reciting   "August,"
surrounded by quiet men in dark suits —
they almost liked the lines.
Tomorrow is the day, the 30th. And three months from tomorrow
Tsvetaeva will hang herself
in a Tatar town on the black Kahma river.
Kahma - a tribute to the fuller, solemn
Volga, which rolls her waters south farther from the yoke.
The town with a hook-like name: Yelahbuga.
A tributary to the yet unknown,
if  only I could give her all my blood
to fill those cobalt  rubble veins of a laborer!
If only - all the pine tree air to fill his tormented lungs -
I, illegitimate offspring,
looking for the two of you 
on every  bank
of each big frozen river
where boats are stuck in hummocks.
---
On the Fall of the Tyrants 
            This night I got up and came out of the trailer.
A strange sound woke me:
as if statues
were falling again and again.
            The forest stood solemn, alert. The light sky was an oak trunk away.
            Those were leaves, leaves, leaves, falling loudly, 
-  dictators, chiefs of the secret police, field marshals —
all of them falling at last one by one rumbling colossus,
            peeling bronze skin,
toppled by crowds
after 74 years -
little dry mummies…
            Oh how they used to watch, watch from above!
Only  birds painted
them with their bold  blue,
white, green strokes of shit
            (as at dawn a careless camper drops toothpaste
on the perfect grass by  the brook),
tried to enliven with their warm dung 
dull flat shine -  birds  flew at the statues,
            colliding with merciless bronze.
Leaves were falling, like in August 1991, when
we stood mesmerized by a moment no one had dared dream of,
falling, toppled,  each a dry  little earthquake.
Oh, let them, let  them go down, let them
roll down that slippery  hill, over clay, over  breccia, and never return,
let them pass all the traps of soil and ores,
straight  to the core of the Naught
---
New Moon  
Risen now,
molded of dull gold, bent and drawn
from a sheath,
as promised, on the left,
laid out on black calico.
Engulfed now,
as bequeathed,
by each ringing alpha and beta,
now laid bare,
scattered names in the dome.
"No one is needed" now
is irrelevant.
Here they move – waves  behind
the resilient  wall, churning, vaguely familiar,
on the left, against the breakwater,
but how  arbitrary it sounds: "heart"!
Bent now,
life poured into a tight bottleneck –
but nothing is filled,
or budged even half-
way, or changed
with our arrival-departure –
as a heavenly creature,
light-heavy, with a brown or scarlet or
lackluster lining,
with such-and-such fate or habit.
What did it mean –
"trust in," say, or "don't trust in" –
when it beat against the breakwater all night,
against the opaque wall – but it bent,
didn't give, this wall
of the house with only one door?
"New Moon" translated from Russian by B.Dralyuk and the author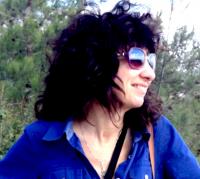 Irina Mashinski was born and raised in Moscow. She graduated from Moscow University, where she studied theory of landscape and completed her PhD in paleoclimatology. In 1991, she emigrated to the United States, where she taught high school mathematics as well as literature, history, and meteorology at several universities. Mashinski is the author The Naked World (MadHat Press, 2022) and of eleven books of poetry and essays in Russian. She is co-editor, with Robert Chandler and Boris Dralyuk, of The Penguin Book of Russian Poetry (Penguin Classics, 2015) and of Cardinal Points, the journal of Brown University's Slavic Department. Her work has been translated into several languages and has appeared in journals and anthologies both in the US and internationally. Her second English book, Giornata (Červená Barva Press), is forthcoming in the fall of 2022. Website: http://www.irinamashinski.com. Irina recommends Nova Ukraine.