"We Watch the Weather Turn," "Playing the Border Bet," and "We Turn Our Eyes to the Favored"
We Watch the Weather Turn 
At the vagabond table in Market Square,
I key on the random roll of her hands,
Ian Curtis t-shirt under a Kenzo hoodie.
A fan of bands that broke up,
she measures history by
CD release, side projects, reunion tours.
Streams of auburn curls flutter on her cheeks,
restless listings for Joy Division, New York Dolls
sprawl through her journal.
"I know your product," I say,
"the single-carnation bouquet,
Petrarchan sonnet on demand."
Not deep brown but black eyes lift at the tease.
She slips the pen from my shirt pocket,
flips to a fresh daybook page.
"Every woman to her strength," she answers.
Our coffee cools. Spring rains begin.
---
Playing the Border Bet
As I walk out
beneath chalk blue skies,
I feel stripped as a stolen car.
Two twenties in my wallet,
cell phone and Chesterfields
filling my pockets,
I see smoke spirals hanging
from the Northern burn.
My wife serves a Texas Jesus,
drafted the kids and a cousin
to a common liar's cause.
If there's a fixation beyond
rolled steel fences and firearms
I haven't heard it.
Before the CD kicks in,
radio news declares
fighting at MacDougal and Third,
fighting at Messina on the river.
I know a 4-wheel driving path,
a friend bored, barely hanging on.
I've heard his beer bar draft
for a border run, a nurtured need
to ascend in the world.
I know a wife between weddings
who'll take my call, who'll take us in.
She marries into secrets.
One of them is me.
---
We Turn our Eyes to the Favored
Solemn chords of carillon bells
chime along the townhome lanes.
Idled at the curb, 7 o'clock sun
captures the corner of my eye.
Adventure ending, my suitcases
strain with pearls and smuggler's silk,
the collected Highsmith, the collected Stanwyck.
The night I packed to return, I heard
my lover's name called in a dream.
 
I laughed with her in the Merry Midas Grill,
while we drove the waiter to the street
with calls for jukebox Louis Jordan,
Jersey subs, Apple Crown Royal on the rocks.
Hepburn bob, a watercolor wrist tattoo,
she wears pearls and twinset with a stiletto stalk.
An opal pilgrim's ring flashed
over the Academy argument
for soundtrack Eno, for Rita Hayworth.
She saves her lace for charity,
the Range Rover to chase the valley riders.
In a Fendi crocodile case, a Winchester 45.70
rests in the seat behind her.
 
Nude on the riverbank,
fiesta paint washing to the rocks,
the waterline rises in the rain.
A Turin friend, his Texas wife
gift us a monograph on the Rainbow Ruse,
a puzzle box of onyx and copper.
As we move beneath a fog-shrouded sun,
they join us for a 3 course serving,
a John Weaver pantomime.
They manage to weary with clumsy dance,
a close magic try at wallet theft.
I light their cigarettes,
a lotus lantern so they can withdraw.
 
We live in the movie where we try to amuse,
where no one expects the orphan trials,
the governor's Cape Town bank account.
A trenchcoat trail along the moors
mark the stops on a mystery's map,
make the trance of a falling star
another season to reclaim.
She insists on Madero's cocktails,
the complement of wastrel hours
with a Lisbon terrace bar.
I join her after study hours,
book bag, gym bag on the floor.
Each with a savage's knowing smile,
we are charmed as a window's ocean view,
casual as our silence, our complicity.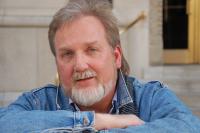 R.T. Castleberry was a co-founder and director of the Flying Dutchman Writers Troupe, a literary performance group. He was co-editor/publisher of the Flying Dutchman Writers Troupe poetry publication Curbside Review.
He has published poetry in Roanoke Review, Comstock Review, The Alembic, Green Mountain Review, Santa Fe Literary Review, Misfit, Pedestal and Concho River Review. His work has been featured in the anthologies, Travois-An Anthology of Texas Poetry, TimeSlice, The Weight of Addition, Blue Milk's anthology, Dawn, Soul X Southwest, Anthem: A Tribute to Leonard Cohen, Kind Of A Hurricane: Without Words and You Can Hear the Ocean: An Anthology of Classic and Current Poetry.
He recommends the Houston Food Bank.