Two Excerpts from "Visions"
There's a tall
light tower.
It casts
a very faint
light.
 
Lips—
the only feature
visible.
I can't tell
whether it's
a man's face
or a woman's face.
 
An image
in the depths
I can't reach.
 
The Torah.
 
A strong sun
shines down
through
a leafy tree.
I walk past doorways
in an ancient city
carved out of rock.
With red roses
and silver roses
where the sun
breaks through.
With high walls
that our minds
can't
scale.
We only know
it is very bright
within.
 
And sometimes,
it pays
not to get the most of me,
I hear a man say.
That's an inner voice.
 
A runner passes,
an orange blur.
July 19, 2007
---
A man looks into a box
of green and silver Christmas balls.
Silver coins
glint in the light.
 
Heads look down
from a circular gallery.
Bald or shaved heads, all of them.
 
Still a few raspberries
hide among the leaves.
There are faces
in the smoke
billowing up
into the starry night.
Faint silhouettes
of large trees.
Why do a few bright greens
flash out of the darkness?
 
A bird with a long neck.
An animal with a mustache
and beard.
A monkey or dog.
These frosty blues and purples
aren't an accident.
They are a man in armor,
a horse in armor.
They're fighting a giant bird,
which is exactly the same colors.
This is the dawn of a day,
or the utter dusk.
 
Small meteors
rain on us
in this endless night.
 
I remember her.
She
has an orange balcony,
with vines growing up to it.
She has an elephant blanket.
 
The light tower flares—
and then goes dark.
There is a player on this team who is not over 18.
 
Afternoon sunlight
filters down
through
thick sugar maples,
a fine rain
by the time it reaches
the forest floor.
There's a dog
or a fox
or a possum
hiding
right over there.
 
A fish
enters a man's face.
Two men's faces,
close,
yelling at each other,
butting each other,
like
Egon Schiele and Gustav Klimt
in Schiele's painting.
 
A blue flash
above the rainbow colors
of the oily shallows—
a sky-blue butterfly.
 
Now a whole kids group
exercises together,
the leader
with a whistle around his neck.
And that is a donkey.
And that is a demon.
And that is a bear.
And that is a cloud,
shaped like an avenging angel.
And that is a bear.
And that is a monkey.
And that
is some wizened
small animal.
And that
is a salamander's face,
almost a blank slate.
And that is a street corner,
the store
closed for the night.
Why is that person looking into the store?
 
All those kids,
sitting by the lockers,
change
after gym.
There is this
unstoppable sun here.
It shines into everything.
The tip of a tree caught fire.
 
Snow was on all the trees,
all the green leaves.
Those fiends started telling me yesterday.
 
Colored dots
flourish in the night—
purple
and green
and yellow.
 
Everything droops,
hangs down
in these dark hallways.
A tiny skull
floats toward me.
Then
a South American man
with
slicked-back dark hair
and a
tangerine bandanna.
July 23, 2007 (later)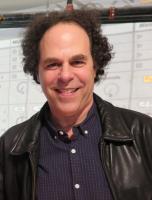 Michael Ruby is the author of eight poetry books, most recently Compulsive Words (BlazeVOX, 2010), American Songbook (Ugly Duckling, 2013), The Mouth of the Bay (BlazeVOX, 2019), The Star-Spangled Banner (Station Hill, 2020) and the forthcoming Close Your Eyes, Visions (Station Hill, 2024). His trilogy in prose and poetry, Memories, Dreams and Inner Voices (Station Hill, 2012), includes ebooks Fleeting Memories (Ugly Duckling, 2008) and Inner Voices Heard Before Sleep (Argotist Online, 2011). He co-edited Bernadette Mayer's early books, and Mayer's and Lewis Warsh's collaboration Piece of Cake (Station Hill, 2020). He lives in Brooklyn and worked for many years as an editor of U.S. news and political articles at The Wall Street Journal.