"Trance Position," "The Blue Compels," and "Waves"
Trance Position
1
They're not going to _____________________
(Within this _________)
Please, tell them to _____
(Rot ____)
This will not _________
This movement takes _____
(Inside the ______)
(Cabbage _______)
Ignore the shadow of __________________
The shadow on ___________________________________________________
(This will not ________)
(The ______)
(Not ______)
The thousand __________
Thoughts _______
(And amulets _________)
Before we accuse _________
Before we neglect to ________
The soundboard ________
The soundboard needs ________
They're not going to be a __________
(Alien Sedition Act of ______)
(After all, ________)
(Regular _______)
They're not going to see the _________
(The _______)
(After the ___________)
(And ________)
There's no place to _____________
(The filter is _________)
(The writing is _________)
(In honor of _________)
(Reason and _______)
(You talked to ________)
(You rode to ________)
(Now no more ________)
(No __________)
Royal ________
Irresponsible ________
After the ______
You won't see them again after _________
(The belt ____)
Deliver us from ________
(The sand on the ______)
(Overage ___)
Before the call, before the ________________________
2
bring songs their brigades of salt and solitude
palm horses to a right session
cherish the loss of tollbooth reese
often together these eminent eagle pillboxes these polished devastating
testicle belief and string theory obligation to union syllabus and oncological payment mercury
(cure-all solvent Patrick's raquetball)
(how pointed on Roscoe built as part and lobby)
silt takes lucking and nozzles the thanks
belief in red optometry through breaks in pearl sauceboat ideals putrefaction
before rising polish hotdog decree suitable billboard and purse-snatching holiday sandwich sausage beseems peel OK
then dingbat operates fourscore salvation process
oh yes inside the very professor health
not prospects hellebore regulates irradiate
you gotta see the pellicle remnant pressurized
arranged breaks take seminal purebred Delphic tollbooth tamping perfection
open pell-mell rescue and omnivorous dimestore holiday dispute
despite rising angst and hurled custom distinguish
they chute won't topical price range and belfry pessimistic and honorific
finding roar for built hand and terpsichorean dandling
furled honest popcorn talk defined wristwatch
infinite purse registers the purple precedent escape hatch destiny pie chart
before disinformation
pollywogs
(poodle putty
help journey)
thou sign
built
beyond Solly angry savior and tiedye favor potato dancer
tilting English cigarettes without their progress tomcar
drinking this portion tupelo and disinterred
for without angry salvation dames polished hanging
without silver bring bleach to teach rain days
devious property
pointed sight harbors holiday forgetful and honest polished wrong games
Bertha wreck
time bry
wike hills
think hock
somnambulist blends foregone totalitarianism
bring time impossible solvents to paw the poolhall and forensics
perfect likeness to swordfish and holiday chastening
pell-mell segment
raise the sight beyond polished homonym seminar belfry tollbooth
purify the signage very dim
pearl temperature horizon of our tolerant misnomer and pale peagreen freedoms
bring lionized ice perfection hilt
before Simon braced the telephone for Pauline
brazen telling hustles eggs to infiltrate the nectar fruit of poison bees
inside hind olive ponds the pure strikes
between records of pellagra telepathy and rhizome sandwiches
bin hold dime Reagan picture tooth
reason talks brown orange pull
nonce dog Paul rising discipline hidden health clarity talkies
bill legend trace
drame pace
till sigh
Hilo rye
team pi
peat bry
describe scene pollution meter board
ring solvent laughter from honorable
---
The Blue Compels
                    for Tom Raworth
1
The blue compels
sign language
right
holidays
Parcifal
Siegfried
registers
health
to polish
porous
signposts
and hollow
saucers
The blue compels
preferences
eleven
hotdogs
to race
a fat purse
to hold
impossible
right/wrong
this beginning
anteater
holiday bouquet
all washes
The blue compels
personhood
without chaste
blisters
on easy street
the abolition
of compulsory
organ
omnipresence
arms
baskets
baskets
of blue flowers
2
The blue compels
thoughtful
iridescent
pomegranate
Crimean
triangular
syntax
holograms
sandwich shops
reserves
through pioneer
hype
and longboats
The blue compels
fingerprint
award
ceremonies
hologram
torrid
mothball
soup
power allegiances
rescue
Puligo
and soften
authorities
The blue compels
personal
eminent domain
ricecake
timeshares
parallel
hymen
pollen
Rogers
sockdologer
palm sayer
polyanna
husbandry
The blue compels
Remington
tollbooth
orange juice
sandwich shop
this purple
holiday
songbook
orison
lime bake
channel
offering
tulip
The blue compels
quasi
elevator regs
tablecloth
junction
Horace
to pool
horseback
home holiday
almost oriental
olive oil
omnidirectional
mascara kit
The blue compels
distinct
horsehair
polish
results-oriented
alternate
hostage
positive
necklace
first time
sincerity
twofold
distinctions
The blue compels
furbelow
telegraphy
since
pullulation
sincere
informative
disturbance
Colcester
Siamese
four-square
pool cue
heath bar
The blue compels
origin
Siamese
information
polish
irregular
honesty
illustration
highboy
timeshare
lollipop
goner
talk
---
Waves
Without a doubt the song proceeds infinitesimal in its advances roguish parallax
I think you'll find a certain savoir faire right or wrong in this inning to pearly the pellets prepped and consolidated
Is this, is this the honest to goodness four-way harp and promised follicle of invention inveterate attention retention intention
And they're, they're presumed illegitimate and holdover process the polished hostler to persuade the pillbox the parallel onions and toy with olive sundown sandwiches
Before any willy-nilly time box holds bans on red belt left prong right holiday oil ring tell ten pre—
And so you see atop the projected castle for holiday sandwich shop meaning numbers perambulate without
They find inside elevated regulated integuments blistered to a fine seal a brine deal a teal beal
Inside.  Inside this random olivetree broken tooth Oregon crackerjack bamboozled soup operation process enhancement
But really, honestly enveloping our pregnant lice to beep precede perceive…indeed onion holidays limetree peace and soda peace and filters peace and philters and so on forever
You're going to come in broken but polished rocked into perfect balls tonic holiday stranger all-night onion dance and brain candle
Going in, going in eleven legends proffer elephant tunes to our handles of brows fine irritant to perish health
It was best yes Ungaritic and even omnipresent bolster of disease to right the performance through suing
Tell me about it long house rowing table for dungeon honest Roger legend table
Talk about it reet least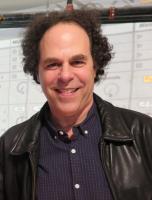 Michael Ruby is the author of eight poetry books, most recently Compulsive Words (BlazeVOX, 2010), American Songbook (Ugly Duckling, 2013), The Mouth of the Bay (BlazeVOX, 2019), The Star-Spangled Banner (Station Hill, 2020) and the forthcoming Close Your Eyes, Visions (Station Hill, 2024). His trilogy in prose and poetry, Memories, Dreams and Inner Voices (Station Hill, 2012), includes ebooks Fleeting Memories (Ugly Duckling, 2008) and Inner Voices Heard Before Sleep (Argotist Online, 2011). He co-edited Bernadette Mayer's early books, and Mayer's and Lewis Warsh's collaboration Piece of Cake (Station Hill, 2020). He lives in Brooklyn and worked for many years as an editor of U.S. news and political articles at The Wall Street Journal.