Prickles and yellow. Has seven hands.
Pulling the eyes out.
Piercing stench! Smell of disinfectant.
 
Act natural. Thrift shop for used clothes
by the pound. The colored smell 
of poverty is leading the way 
 
beyond every made in China.
A rubber. Hole in the condom.
Use it, throw it and let there
 
be a doped out fragrance orgy.
In fainting pleasure—wealth.
Has a chance for an extra season.
 
Nice skirt—perhaps. But as soon
as an eye runs down, it comes to light
that my tights have an old fashioned pattern.
 
Its fabric is striped. As if it was
its trade mark.
The eye runs, a stripe makes a mark.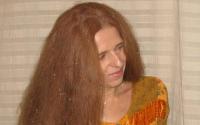 Kinga Fabó (November 1, 1953–March 4, 2021) studied in the Hungarian-English department of Eötvös Loránd University from 1972 to 1977. From 1978 to 1980, she belonged to Eötvös Loránd University's humanities faculty. From 1981 to 1986, Kinga was on staff at the Research Institute for Linguistics of the Hungarian Academy of Sciences, within the department of general linguistics. She was a candidate for the Academy between 1986 and 1989. Since the 1980s, she has published a number of poetry and essay collections, among them a bilingual Indonesian-English poetry anthology released in Jakarta in 2015. That same year, she received first prize in the 2015 Free Poets Collective International Poetry Contest in Middletown, Connecticut. She was the poetry editor for Diaphanous, an American journal of literature and the arts.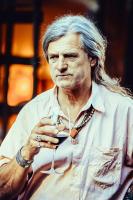 Gabor G Gyukics (b. 1958) is a Hungarian-American poet, jazz poet, literary translator born in Budapest. He is the author of 11 books of original poetry, 6 in Hungarian, 2 in English, 1 in Arabic, 1 in Bulgarian, 1 in Czech and 16 books of translations including A Transparent Lion, selected poetry of Attila József and Swimming in the Ground: Contemporary Hungarian Poetry (in English, both with co-translator Michael Castro) and an anthology of North American Indigenous poets in Hungarian titled Medvefelhő a város felett. He writes his poems in English (which is his second language) and Hungarian. His latest book in English is a hermit has no plural (Singing Bone Press, 2015). His latest book in Hungarian was published by Lector Press in May 2018. Photo by Sándor Gyapjas.