Three Visual Poems, October 2021
These pieces are from a sequence entitled Maths, which will be published as a series by Chax Press.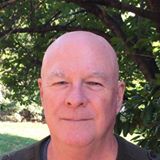 Joel Chace has published work in print and electronic magazines such as, Tip of the Knife, Eratio, Otoliths, Word For/Word, and Golden Handcuffs Review.  Most recent collections include Humors, from Paloma Press, Threnodies, from Moria Books, and fata morgana, from Unlikely Books.  Joel recommends supporting locofo chapbooks.