She has time, she's walking by
She likes me,
It'd be nice if she could realize.
I signal her.
Her liking me is gracious honor.
Had no idea about female voyeurs.
Though I know one forever.
Yet she never laid an eye on me ever.
Her place is in a peep show
Where she'd enjoy the sight
alone without stakes.
Participation and commiseration
is foreign to her. She cares for her
own pleasure at the expense of others.
"'cause I'm so special for I have
been to the department of oncology
just to experience her visually."
She watches, watches, enjoys
Enjoys to see.
Enjoys to enjoy. Yet need not
be participating.
She eyeballs, and hopes
that no one would notice
that no one should notice.
She writes off goodness in less than an hour.
Enjoys it by running along
her principle to save herself.
I'm aware of this mentality: principles,
empty generalizations, concentration camps.
Should I initiate?
No way. She waits until others
will not initiate
Swimming freely in the puddle
of her narcissism. Splashing happily about.
if someone else arrives she splits.
Enjoys it, secretly gathering things.
This time she collected some husbands.
Since she has none, she usurps men
belonging to others.
Steals them sneaking she dares
preserve them like canned fruits.
Her freezer is ready—
frozen husband collection.
No other men are required to her.
Deep frozen woman, satisfied
as she is rested.
Other's ego is plastered,
mopped up
and reduced
by her own.
Driving like a steam-roller. Driving
like a tank. Hitting the door bell. Coming.
Her heels knock on the floor.
She likes books too.
Coming for a copy. Puts it away.
Then she walks over to my enemy.
Lives close by. Takes one from her too.
Wouldn't give any away, any.
If she gets her hand on something
that is hers, only hers.
Her collection is a broad growth.
Collect her pens from me.
She hides me in her pearl letter.
Sewing me to a necklace, stitches
me away.
She wears me as jewelry in a casket,
she has a season ticket
to a swimming pool to paddle
in her ego. Splash—splash.
Talks, talks. Bombarding me
incessantly.
Tasting me peeping me through
the keyhole of her ego.
A hole opens, locks.
She's amazed but can't see
neither her ego nor me.
Should I call out?—squelched me.
Cares not.
Asks not. Reacts not.
I talk, she's bored.
If I get a word in. But I'm completely floored.
So she does the talking, I'm bored.
She bombs me with herself, blitzed me.
Floods me, drowns me in
her pool. I'd rather swim inside.
But her pool is full
with her.
She acts like a voyeur:
guards her ego. Puts herself on low flame.
Won't get ignited. Won't heat you up.
The usual keeps her alive.
Or rather a courtesan!
A courtesan giver.
Yes she is good. Very good.
Makes things plenty.
Stirs it, stimulates it.
But doesn't know what to do with it,
boils it over, the broth, beats it up.
Stands on a phallus phase.
Like a wooden spoon.
Agitates further on, won't be edified.
The occult is foreign to her.
Right now, she eyeballs me.
Other times eyeballs others.
Matters not.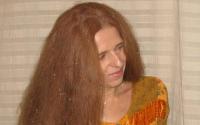 Kinga Fabó (November 1, 1953–March 4, 2021) studied in the Hungarian-English department of Eötvös Loránd University from 1972 to 1977. From 1978 to 1980, she belonged to Eötvös Loránd University's humanities faculty. From 1981 to 1986, Kinga was on staff at the Research Institute for Linguistics of the Hungarian Academy of Sciences, within the department of general linguistics. She was a candidate for the Academy between 1986 and 1989. Since the 1980s, she has published a number of poetry and essay collections, among them a bilingual Indonesian-English poetry anthology released in Jakarta in 2015. That same year, she received first prize in the 2015 Free Poets Collective International Poetry Contest in Middletown, Connecticut. She was the poetry editor for Diaphanous, an American journal of literature and the arts.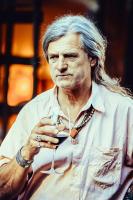 Gabor G Gyukics (b. 1958) is a Hungarian-American poet, jazz poet, literary translator born in Budapest. He is the author of 11 books of original poetry, 6 in Hungarian, 2 in English, 1 in Arabic, 1 in Bulgarian, 1 in Czech and 16 books of translations including A Transparent Lion, selected poetry of Attila József and Swimming in the Ground: Contemporary Hungarian Poetry (in English, both with co-translator Michael Castro) and an anthology of North American Indigenous poets in Hungarian titled Medvefelhő a város felett. He writes his poems in English (which is his second language) and Hungarian. His latest book in English is a hermit has no plural (Singing Bone Press, 2015). His latest book in Hungarian was published by Lector Press in May 2018. Photo by Sándor Gyapjas.