Does it have a body? Have an ego?
Does its own ego have a soul?
Or all this is the mutated reflection of another ego?
Should I presume mine inside it?
Or does it reflect its soul onto me?
Can it be otherwise? Who knows.
Me: the shadow figure. Is it secretive?
Extends and sucks me in.
A net is reflected on me.
Did it catch a spirit-butterfly?
Did its phallus-soul make a move?
Or its penis?
Did a night butterfly
arrive?
Sparking on golden dust?
Lives by it, vibrates by it?
Is the symptom yo-yoing between
body and soul? Projecting.
Gives birth. But ends not.
Aise sends a message only once.
A new existence emerges.
Interested in me? No.
Nor I in him
even if he is
a come-hither.
He is not. I was wrong.
He has no soul, or if he does
it's foreign to me.
Yet he'd found a stranger
who became his shadow.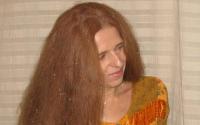 Kinga Fabó (November 1, 1953–March 4, 2021) studied in the Hungarian-English department of Eötvös Loránd University from 1972 to 1977. From 1978 to 1980, she belonged to Eötvös Loránd University's humanities faculty. From 1981 to 1986, Kinga was on staff at the Research Institute for Linguistics of the Hungarian Academy of Sciences, within the department of general linguistics. She was a candidate for the Academy between 1986 and 1989. Since the 1980s, she has published a number of poetry and essay collections, among them a bilingual Indonesian-English poetry anthology released in Jakarta in 2015. That same year, she received first prize in the 2015 Free Poets Collective International Poetry Contest in Middletown, Connecticut. She was the poetry editor for Diaphanous, an American journal of literature and the arts.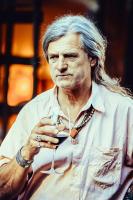 Gabor G Gyukics (b. 1958) is a Hungarian-American poet, jazz poet, literary translator born in Budapest. He is the author of 11 books of original poetry, 6 in Hungarian, 2 in English, 1 in Arabic, 1 in Bulgarian, 1 in Czech and 16 books of translations including A Transparent Lion, selected poetry of Attila József and Swimming in the Ground: Contemporary Hungarian Poetry (in English, both with co-translator Michael Castro) and an anthology of North American Indigenous poets in Hungarian titled Medvefelhő a város felett. He writes his poems in English (which is his second language) and Hungarian. His latest book in English is a hermit has no plural (Singing Bone Press, 2015). His latest book in Hungarian was published by Lector Press in May 2018. Photo by Sándor Gyapjas.