"The Poem I Didn't" and "Zen, Hunger"
The Poem I Didn't
The poem
I didn't
write
sits
like an old coin
in my coat
pocket one
I wear
winter-long
going cross-
town in early
evening
when the gold
of air
fall like nettings
and time
feels round
feels primitive I
rub my coin
to a shine
suddenly
the sun
slips
dark
is here
---
Zen, Hunger
Spring booms outside the window,
now forsythias, azaleas, cherry,
and no people.
Day by day grass runs rampant,
bogs fill.
Still no dogs, let alone sunbathers,
ballers or clowns.
 
                                    We let it go,
let the season sling back to its skinny shed
like a lost groundhog.
No, we won't save an ant today,
nor a stray.
We slurp ramen noodles, wash it down
with schnapps, buck up for the night.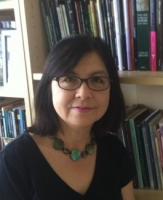 Pui Ying Wong was born in Hong Kong. She is the author of two full-length books of poetry: An Emigrant's Winter (Glass Lyre Press, 2016) and Yellow Plum Season (New York Quarterly Books, 2010)—along with two chapbooks. She has won a Pushcart Prize. Her poems have appeared in Ploughshares, Prairie Schooner, Plume Poetry Journal, New Letters, The New York Times and The Southampton Review, among others. She lives in Cambridge, Massachusetts with her husband, the poet Tim Suermondt. She recommends Hong Kong Free Press.