On a hot midsummer morning, Elise rubbed oil on the top of their old teak table. Solid teak. Imported before solid teak became illegal in November 2012. Maurice came in with a plate of sliced tomatoes warm from the sun on from his garden, and they sat at the table to eat them with their fingers. She scrolled down through the Facebook messages on her iPhone and read a post from a friend, a thoughtful, kind woman with hair like the young Kennedy sisters.  "I'm so, so sad," she posted.
The responses were pearl-clutching:
--Sending Prayers.
--A symmetrically arranged series of red hearts and praying hands.
--Dear, what has happened?
What has happened? Elise thought. How could they not know?  How could they be so stupid? Earlier that morning she had watched and listened to a Facebook post of "Blowin' in the Wind." Her dining room filled. not with the scratchy iconic Dylan version, but the beautiful melodic harmony of Peter, Paul, and Mary. The three singers were serious and young with the effortless slenderness and grace of youth. Though she and Maurice would never be that lithe again, the wind was still blowing.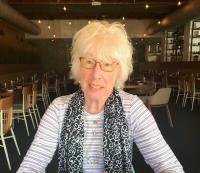 Deborah Ann Percy (Johnston) lives in Kalamazoo and South Haven, Michigan. She earned the MFA in Creative Writing at Western Michigan. Her two collections of short fiction are Cool Front: Stories from Lake Michigan (March Street Press, 2010) and Invisible Traffic (One Wet Shoe Press, 2014). Her plays, and those written in collaboration with her husband, Arnold Johnston, have won awards, publication, and over 300 productions and readings nationwide. Their twenty or so books include the recent children's book Mr. Robert Monkey Returns to New York (Brandylane Publishers, 2021). Since 2003 over two dozen of their half-hour radio dramas have been broadcast on Kalamazoo's NPR-affiliate WMUK-FM as part of All Ears Theatre. Her favorite charity is Kalamazoo's Loaves and Fishes.