"The Border," It's Just...," and "Double Exposure. The Cities"
The Border
                              for Sasha
          I flew over Norway, 
I had lived in a cage – a landscape of frost covered wires
  and then broke free,
    flew away, saw fiords -
and lost fear.
 
Cliffs shone pure slate, their after-rain luster 
when I flew over Norway, 
I was finally out, out – and you
were five, you slept on the woolen sleeve of my Moscow
winter coat in the bliss of the stratosphere.
Just think: I can walk, hear whispers, see hues the way
            dry leaves  fall
 
with a hollow sound
of clapping hands
into empty symphony hall -
as my limbs, my eye lashes, and  the lines of a poem are free
 
to flow
over me,
not bound anymore by my eyelids
    nor by the gates
          of that thirst for
the border below.
(How it gleams in twilight!-
 
the rim of a forest lake,
           moraine ragged edge).
---
It's Just...
       …a note
from here which I can define as here
to dear you there, in the Land of Names.
 
So, here in the hills
under my feet
a rapid river –
as if  alive –
eats gravel,
swirls
leaves and twigs,
avoids all common places,
doesn't
- can you believe it?  -
name names
say, freedom.
What's freedom? you asked
(sarcastically, I guess).
– A lot of empty space,
not masked by names
or gender,  like verbs in the local  language.
 
Air alone above me,
 
and if there is a border –
it's  this transparent, braided, quick
between that grass
and more grass to the west.
---
Double Exposure. The Cities
It's time to go back to the beginning,
like in a tightly knit elaborate novel,
it's time to go back to the beginning,
to get in, to stop at the car's far end,
to drop the bag against the scary door,
and, keeping balance, hover
over the Map of Our City Subway.
 
And I will also tell you, having grabbed
the silver handle covered by a dozen
glittering fingerprints, and leaning over
(for I am near-sighted)
 the Mighty Subway Map,
as if it were a star map - I will tell you:
an idle rider remembers nothing,
saves only losses.
 
I like the clear names of passing stations:
now it's Seventy Seventh, and now –
already Forty Second, look.
How sweet the things that rest unnamed!
- like fingers running down the spine,
like rain that runs around but never names,
and washes off the dust of false resemblance.
 
In places, where rhymes don't stay for long
- how sweet, how fresh these repetitions!
And if you see a ghost of message or,
God forbid, some hidden meaning – sweep
it away, like an annoying rhyme. Repeating
myself, I'll say that as for repetitions,
for senseless similes, returns
and goings-back –
 
there's nothing to them.
They're but a warm light,
but precious stitching mutter.
 
… One day go down Fifth Avenue and find
a greenish goddess
(a hornless wreck, a bench, a shade)
with arms half-open, in a semi-circle.
Into the middle of this solemn gesture
a joker stuck a paper
-don't you know the joke?
The headlines look Soviet.
 
How foggy this fall is! How badly
we're bothered by the billboards on the road!
Nightmare can be magnificent, and more so,
if watched from an iron bridge with peeling paint,
and a maroon and huge and dusty sign
of the hotel looks like a board
"AHEAD TO COMMUNISM!"
I'll never see it being taken down.
 
Look,  neither wandering, nor a sad attraction..,
like raindrops to a bird, like fingers to the spine –
quick, look here: feels funny, ticklish…
And I will also tell you that no one,
or so it seems – no one
is watching us from
above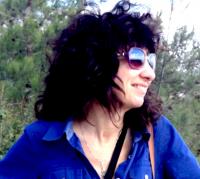 Irina Mashinski was born and raised in Moscow. She graduated from Moscow University, where she studied theory of landscape and completed her PhD in paleoclimatology. In 1991, she emigrated to the United States, where she taught high school mathematics as well as literature, history, and meteorology at several universities. Mashinski is the author The Naked World (MadHat Press, 2022) and of eleven books of poetry and essays in Russian. She is co-editor, with Robert Chandler and Boris Dralyuk, of The Penguin Book of Russian Poetry (Penguin Classics, 2015) and of Cardinal Points, the journal of Brown University's Slavic Department. Her work has been translated into several languages and has appeared in journals and anthologies both in the US and internationally. Her second English book, Giornata (Červená Barva Press), is forthcoming in the fall of 2022. Website: http://www.irinamashinski.com. Irina recommends Nova Ukraine.