"States' Rights," "Going to the Mardi Gras Parade, 1984," and "Looters"
States' Rights
Eminent domain has no place here
And if you knock on someone's door
You're liable to get shot.
 
The billboards advertise
Aborted fetuses, vasectomies,
Christian fellowship
And the communist UN.
 
Go get your gun, Johnny,
The war is about to begin.
---
Going To The Mardi Gras Parade, 1984
We walked a great distance
we were parked all the way out on Dauphine
past Elysian Fields, out toward the Industrial Canal
strolling along with go cups full of iced vodka
stumbling upon a cop silently sliding through
a stop sign and into a ramshackle pickup.
 
The cop's fault, I told my companion.
Apparently the cop thought otherwise,
pulling the black driver from behind the wheel
and banging his head against the hood of the pickup.
 
I stormed up to the cop
with all the courage my BA in English
and  K & B vodka could buy.
I told him it was his fault.
 
Apparently the cop thought otherwise.
---
Looters
After Katrina they sprang up everywhere
Hand painted signs on plywood left over
From boarded up windows.
Looters Will Be Shot!
And one with a sense of humor:
Looters Will Be Shot! Twice!
 
In the gun happy south
Any excuse to pull out your weapon
And advertise it on the front yard.
But no one came in the middle of the night
To steal from the detritus.
It was only the insurance companies
Who robbed us blind
Without one shot being fired.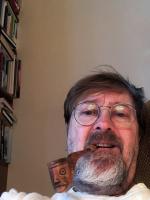 Gary Bloom was born in Minneapolis and received his degree in sociology from what is now Minnesota State University- Mankato. He later studied computer science at The University of Minnesota and The University of New Orleans. He has been a teaching assistant at a psychiatric hospital, an English teacher in Taiwan, a driving instructor for spinal cord injury patients at a Minneapolis hospital, and a computer programmer. His articles, photography, and poetry have been published in newspapers, magazines and websites, including Grit, Milwaukee Magazine, Pif, The Buffalo News, The Grand Rapids Press, Oasis, Mankato Poetry Review, Art Times Journal, Poetry Quarterly, and Black Diaspora. He is retired and lives in Mississippi. He recommends the ACLU.