"Star, Stripe, and crew" and "Tools"
Star, Stripe, and crew
Hate and Fear used to sit together quiet and ugly in the back of the room, are now front row and wield a gavel.
Crass and his rant have become fashionable with the eye patch, walkie talkie and red hat.
Thought and Prayer have taken on grand significance and parade in grey robes as kids are put in cages and shot by frustrated patriots.
Apathy, bow-tied and looking the other way, rarely speaks up, but points out that, just getting on with your life is probably the most prodigious path.
Ignorance, of course, is clearly in charge, calculating the longitude and latitude of the importance of not knowing, works hard with Proud and Sanctimonious to ban, then burn books to that end.
At the inauguration, Empathy, her siblings and babies are hung, as the entertainment part of the event.
Gracious, grimacing forgiveness is burned at the stake as Big, bad hair day in the wind, hugs Old Glory, now upside down between his legs.
---
Tools
We baked cookies, walked the kids to the bus, mowed the lawn, talked to neighbors, and reveled in the peace of suburbia. There were childhood anxieties, pubescent fears and young adult hatreds, but they had lulled into put-aways in the attic, garage or shed. This was paradise, three bedrooms, three baths, clubroom - but it wasn't, it was boring, there was no excitement, there was no primal inspiration. And then, it was like a cumulative thing we went and got those tools, so neatly stored and not so far away. Just below the surface their need took shape. It desired a leader but only for the validation of the coming together. We all knew, but for the longest time never said it, and now we were saying it. We had meaning, we communicated our emotion. Social media broadened our community. We all agreed we were now not just better, we were becoming great again.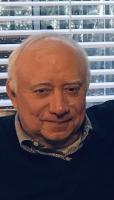 Craig R. Kirchner has written poetry all his life, is now retired, and thinks of poetry as hobo art. He loves storytelling and the aesthetics of the paper and pen.
He was nominated twice for the Pushcart Prize, and has a book of poetry, Roomful of Navels. After a writing hiatus he was recently published in Poetry Quarterly, Decadent Review, New World Writing, Skinny, Neologism, Wild Violet, Last Stanza, Unbroken, W-Poesis, The Globe Review, Your Impossible Voice, Fairfield Scribes and has work forthcoming in Ginosko, Last Leaves, Literary Heist, Blotter, Quail Bell, Yellow Mama, and The Light Ekphrastic. Craig recommends Feed the Children.