He was sleeping in the Wendy's lot
the cars had to veer around him
to get their burgers to get their fries
to get the ketchup in a thick plastic pouch
red ketchup with fine print of preservatives
 
He was in the way asleep
a black man drunk? sleeping it off god knows
it wasn't his dreams they were interrogating
 
Was it sweet that last one before
they knocked at the window?
Was he in Hawaii like he'd been
once in another dream?
Was he flying without wings with his daughter beside him
before they roused him from whatever lousy joy
with a baton at the window with a show me your hands
 
And he didn't want to show
He was pissed off in advance
that his life would end this way
between the oil stains on the cracked lot
and the burger smell under the plastic freckles
and red braids of Wendy
 
He didn't know why he would have to die
for not moving for sleeping in a bright lot
Why they would come at him with a stick
of voltage which he grabbed
with a sudden move his hand grabbed it
he didn't he had no will
they had taken that long ago
his legs ran off with him
and he got shot in the cloud of exhaust
in the grey unknowing in the broken lot
 
They had to steer around him
to get their meat in speckled buns
and pouches of ketchup
with preservatives --
the crew wiped his blood in the mourning
 
for Rayshard Brooks, 27
Father of four
Killed for no reason
Atlanta, June 13, 2020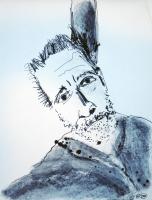 Rodger Kamenetz is a poet and author. His six books of prose include The Jew in the Lotus and the sequel Stalking Elijah: Adventures with Today's Jewish Mystical Masters, which won the National Jewish Book Award. His nine books of poetry include Yonder from Lavender Ink, Dream Logic from PURH in France, and The Missing Jew: Poems 1976-2022. He was a featured teacher this summer at the first ever Jewish poets conference in Asheville. He also taught for many years at Louisiana State University where he helped found and served as director of the MFA program in creative writing and the Jewish Studies minor. He lives and works in New Orleans. Picture by Michael Hafftka.