"Shopping List," "Pastoral," and "Narrative"
Shopping List
The allergist hums Marvin Gaye by eleven varieties of the baked wheat cracker. A security camera pointed at the retaining pond, but really, could you define adequate when all the travelmugs are missing? Chant of branches while remorse collects by the curb. Not progress but refolding, freedom a waiving of the by-laws. "Teleology is outdated" he said from the back of the cul de sac. The last time I heard the word redemption was from a guy who then dropped a Springsteen impression in the Best Buy parking lot. Beyond, goldenrod, high tension wires. Vistas are temporarily unavailable. A realm of highspeed blenders, looking for a suitable numbness in the offphrase, our mintiness unsweetened.
---
Pastoral
Two treefrogs in the neighbors' trees. Starbucks. Mars low above the beach. Home Depot. The local team wins with a walk-off in the 12th. Chick-Fil-A. My wife's halfsmile. Target. The first of the Perseids. Facebook. Last of the peaches. Gazprom. Suburbs unamazed in the heat. Taco Bell. Humidity fogs the windows. Disney. Three air conditioners overtone. Comcast. A tomato sandwich, bread fresh from the toaster, some basil from a pot on the back porch. Apple. Here's the spraypaint by the councilman's house: under the paving stones, the highway. Target. The name made effable, circular, forging only itself. Xerox.
---
Narrative
Then all the tales went awry. Only the shrug of the anxious fabulists who nap among winter wheat, someone's plot unperfecting. An explorer's fable creaks presently: gold dream, as if beyond the ridge we could see all. Shuffle, evade – he stumbles, zooming westward, floorward, besuited apparatchik fumbling for a story in a spited realm unmeaning. He dreams immaculate, erasing and erase, fearing flood and antiflag in his feely realm. This world simpled to boxes, supreme unthought. Name the thickened days. I will sing an eschatology in falsetto. The streets are absent trees, the surveyors lost in the hollow. This groundless nation.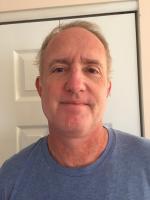 Bill Freind's book American Field Couches was published by BlazeVox in 2008, and his chapbook An Anthology was released by housepress in 2000. He's had work in the Journal of Poetics Research, Noon: A Journal of the Short Poem, Western Humanities Review, Jacket 2, and others, and he's a contributing editor at Dispatches from the Poetry Wars.