"Secondary Inspections," "Greyhound," and "Confessions"
Secondary Inspections
A nose, a foreign look, a memory. "They just want to know if you are Jewish,"
your mom says of questions about what country you came from;
you know that you'll never pass for who you are. Everyone foreign claims your face.
City of Angels swelters, everyone here from somewhere else, still they ask,
"Where were you born?" and "How do you say 'Hello'?" You answer fearing hatred.
Fear you came by naturally after strip search and secondary inspections. Not beautiful.
"Go to New York—you'll be sought out" the statuesque, unapologetically beautiful
Black, Columbian woman says. Not here, you're Toucan Sam, you're a Jew.
"Angelenos look for an airbrushed affect, images of themselves," she says. Hatred
for your ancestral look. "You have only a slight accent, where are you from?"
Later old Armenian men shout out greetings from their balconies, ask
questions you can't understand. You only know your strong nose on face
too ugly for years. For a girl. And you're hairy. White Angelenos seek their own face,
lips full, not too ethnic, unless ambiguous, not too angular, no rough edges. Beautiful.
Customs guards interrogate, hands grab your body. In Greece, Danish boys ask
you for towels, assume you are from Parros.  Jewish
journalist writes story, gets tweets – his beheaded caricature rises from
desire to make America white again. You are zoo animals watched by hatred.
You fear reaction to your ancestral aura. You find hidden outposts of hatred.
City of Angels where everyone came from somewhere else. Yet your face
looks foreign. Daily you hear, "no where are you really from?"
No use saying you are second generation born in America, land of the beautiful.
Your mom's answer to that was always, "They only want to know if you're Jewish."
You go with your son on a field trip, "What tribe are you?" Cherokee guide asks.
 "Of course we both came across the Bering Straits." he says and doesn't ask
"where are you really from?" when you answer. Shows no hatred.
"From Russia, Hungary, Palestine, Turkey," you say and tell him you're Jewish.
Watch what hashtag you use, lest it shows up as a cross burned on your Facebook
page. Maybe it's true what the Columbiana says, "Go to New York, you'd be beautiful
there." Here, your Black son looks like someone they might shoot or run from.
You look like someone might be rounded up, asked "where from?"
A man lingering outside 7-11, looks at you both and asks,
"Egyptian?" Your son mimes the walk like Egyptian dance, your beautiful
son. Later he says, "I guess there's more racism than I thought," hatred
spewing out of a parking attendants mouth spits as he yells at a face
that looked a lot like my son. KKK leader posts "Of course they're not white. Jews."
You're looked upon with suspicion, hatred, wondering where you're from
Will they look at our faces, hear an unspoken word and ask?
You wonder: In New York, will I be beautiful, will we be safe?  Jew and Afro-Jew.
---
Greyhound
Charlotte to Savannah. It smells like bad luck and sorrow plus a look of too much
crystal meth and DIY tattoos. 40 years
since I've taken greyhound. And I just noticed
I've got old hands.
---
Confessions
If you asked me to confess, my confession would be
I've confessed to everything
except maybe—well there is this.
I told my son I hated him, at least twice. One time, I took a bite of his food
in the downtown market; he grabbed my breast, clenched skin in fury. My hand flew
out—was there a slap? Walking out of the downtown market I said he belonged
in the trash  (we were passing a trash bin; that came to mind). He'd discovered
that doing certain things like grabbing at someone else's private parts was guaranteed
 a reaction. And I'd discovered my instinctive reaction, was not as a parent,
but as a woman who lived in a world of women hurt by men. He was just a little boy
though and I was his mom. This wasn't in my parenting playbook when instinct beat
out nurture. You might think we were feral. And now that I've started
I'm sure I've got other hidden pieces, dust them off, archived, from the exhibit,
"Mothers Hall of Shame." Would it help if I told you I saved his life more than once?
But isn't that what a mother does? What tears us apart is the sordid truth,
that we can't always save their lives. We don't always make things better. I tell you,
my son, that's all I ever wanted, to make things so much better for you,
then it was for us. Generation improving on generation but that old imprint has staying
power. It takes a superhero to wrest it off.
Tally up all that was lost in those tumultuous, not Norman Rockwell,
not Brady Bunch days. You will find, like my untamed parents, there has always been
a fierce heart pounding inside me that my children can't miss. Maybe being that parent
who will always be there, is enough to clean up those stains of shame.
How much do I love you? Infinity is all.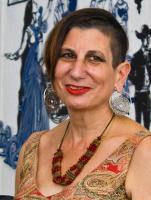 Carla Sameth is a writer and mother living in Pasadena. Her work has appeared in several anthologies and other publications such as Brain, Child, Brain Teen Magazine, Mutha Magazine, Full Grown People, Brevity Blog, Angels Flight Literary West, Tikkun, Entropy, Pasadena Weekly, Hometown Pasadena, and La Bloga. She teaches at the Los Angeles Writing Project (LAWP) at California State University Los Angeles (CSULA).  She is a member of the Pasadena Rose Poet who present "poetry within reach and in unexpected places." Carla has an MFA in Creative Writing (Latin America) from Queens University. Previously she ran her PR firm, iMinds PR. Check out carlasameth.com, or Twitter @carlasameth.