"Safdar's Guilt" and "A Past"
Safdar's Guilt
Then, when one day, I saw the light fall in beneath the door,
My father's voice behind it leaving no shadow on the floor,
And though I'm not worried, nor a muslim,
And though I like to eat the meat, like him, with my soul,
I think whether I should fling it open,
And watch him leave, and say to him:
There's a price to be paid for all good that may ever come here,
For life and death are synonyms in that book
In which stars are calculated and the moon's colour is observed,
In which the Sun is measured in relation to man,
And all this has a price to be paid by the word of the Quran;
If suffering brings peace, he tells me, then don't weep,
Weep or moan, or let the maulvi deceive you, he doesn't know the truth,
To wait behind this veil of life to see the calculated and observed,
Is not this life the same as what was born in the heart of Muhammad?
He speaks about a saint who was burnt in the Sun,
I spoke to him since, and since the day not a word was spoken.
---
Notes:
Safdar: Safdar Hashmi
Maulvi: Priest
---
A Past
Safdar is at a stall.
 
The chaiwalla talks to his brother-in-arms,
His arms, they are moving:
You told me you'd come, you have come so late,
I thought you'd never, never come,
 
Amidst the talk he hears chirruping chillars,
Like a flash of skylight he hears
The bourgeois future in words, in tears,
A man talking to himself:
 
Where are you brother?
Where did you go?
I am here, here for you now,
It's okay, I made it this far,
 
Destiny plays games with us all,
Like music from afar,
It then turns and walks away,
Leaving one to choose one's fate,
The right words, the right plans
Will get you there,
 
Where are you, dear friend?
The houses' beats in the Sun,
The grand stage of this hour
Has already its blueprint,
Shall we build it, dear brother?
Let's live it, dear friend.
 
He's dead, he's long been dead.
---
Notes:
Safdar: Safdar Hashmi was a theatre artist who founded Jan Natya Manch, one of the leading theatre groups performing street theatre in India. The poem makes a reference to him. He was killed during the performance of 'Halla Bol' and the poem speaks of a past that is dead.
Chaiwalla: Tea Vendor
Chillars: Coins; It is also used as a slang to refer to children, like someone saying 'Chillar Party' to refer to children.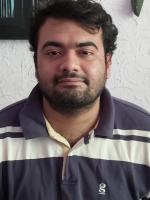 Ritwik Chaudhary is a writer and actor. His writing can be found in Indian Ruminations, RIC Journal, Kitaab, Zeno Magazine, and Countercurrents. Ritwik recommends the Parakh Theatre Group.