"Resentmatisis" and "Spittoonery"
Resentmatisis
Resentitis.
Resentmatitis.
Resentallitis.
Resentmentosis.
Resent resentment.
Resentiment.
Resentmentable.
A recent resentable resentment.
A sentamental resentment.
A decomposed resentment.
A moldy old resentment.
A warmed over, a favorite
a reinvigorated, a reformed
a restructured, a revisited
a reaffirmed
resentment,
just a plain old thing.
An overly familiar.
A worn out, a replayed.
A rotten ugly.
A resentment that lost
its meaning,
its power poofed
somehow lost
by praying for
the resented
what power does
the prayed for
have?
A resentment against
resentment
the be all and end all
of it where it
loses its definition
its soaking up the brain power 
gone, bottomed out,
dissipated – 
a vanishing act.
Look, no look – 
there's nothing to look at.
---
Spittoonery
Liaranucide
Heteroflattery
Christemorrhoid
Cockathoritarian
Muslimosine
Oligargoyle
Diplomasaucy
Evangelicalisp
Liaranuside
Trollocracy
Trumpoonery
Twatter
Celebrateeny
Assholitarian
Bumperstickitooya
Cockamaniac
Abortionopoly
Prolifeanatics
Goonitude
Stupiditurd
Lockertalkracy
Liberprayian
Tyrantikook
Plucockracy
Melaniaopia
Erikadonjareditis
Ivankamononucleosis
Pharmacidal 
Asshandidness
Rapeogist
Transactual
Stopandfrape
Gageconomy
Laissezfart
Egomanicunt
Authoricontrarian 
Goosestep-aholic
Petropenicide
Ridiculitis
Billionairicide
Trickledownocracy
Whitesupremasick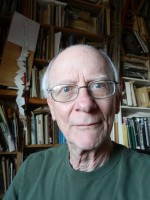 Larry Goodell is too old (86) to know better so keeps writing spontaneously generated poems. His Roswell, New Mexico roots are there but mostly he's lived in Placitas, New Mexico, also Albuquerque, Los Angeles and right outside Barstow, California. His newest book is Breath from Duende Press. Website: www.larrygoodell.com