"Promenading Shoeless" and "Empty Chairs"
Promenading Shoeless
Moses removed his shoes at the burning bush because he knew it was holy ground.
Exodus chapter 3
The mermaid
who once lifted triads
on a blue breeze, saw mothers
and daughters walk arm in arm, heard
roma bands play, now slumps song-less,
hearing screams and shots and watching the river
flow backward.
 
toddler
mother
banker
forced to remove
bootie
slingback
oxford
at waters edge.
When the soles were too worn
they shot them with their shoes on.
 
Roped in trios revolving,   
only one bullet per waltz.
1 dead, 2 alive as they fell to freezing
waves. The Danube turned red then, 
like the first plague against the Egyptians.
 
Sixty pairs of rusted shoes line, now, the holy ground
of the riverbank.
Pumps and peep toes overflow
with pebbles
placed, purposefully
overlooking the river
turned tomb
'Shoes on the Danube Bank' was erected in April 2005, a memorial to Jews shot into the river by Arrow Cross Militiamen between 1944 to 1945.
Previously published in the Holocaust Remembrance Issue of Poetry Super Highway
---
Empty Chairs
Each child came, a chair on his head. First the furniture disappeared, then the children.
Krakow Poland,1942
68 chairs in Zgody Square
facing east, praying.
1000 Jews per chair.
 
An Israeli soldier plucks nylon
strings, from her tongue falls
a Yiddish lullaby.  
 
Toddlers play on iron seats, unknowing.
Only on a midday walking tour of Krakow 
do you learn the truth.
 
Piles of straight-backs weeping
at the roundup of over 60,000.
Standing in line, all Jews could dream of was sitting down.
In 1939, Poland fell to the Nazis. The square, once market and meeting place became full of lines, death and deportation to points east. The chairs stand for these Jews.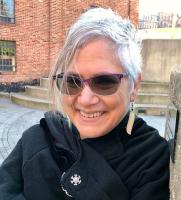 Karen Webber is a liturgical, performing and teaching artist from Baltimore, Maryland. Her work is found online in Poetica, Voice of Eve, The Jewish Writing Project and in print in Breaking Ground Magazine,The Torrid Literature Journal, Lilith Magazine among others. She recommends the Holocaust Survivor Initiative.