"Prime Time," "Brace," and "Realpolitik"
Prime Time
Another corps has been adhibited
to the army of political workers:
language lumpens. Brief of these
foot soldiers is to vitiate discourse
on television with whataboutery
and whatnot.
---
Brace
If you build an alcove on a sepulcher
olfactories will be stirred.
Modus operandi of mellowing
is to achieve detachment.
Ease with which you accept your
burden smoothens your steps here.
My bias exhales your name
let them call me partisan.
---
Realpolitik
When the buzz of mosquitoes is music,
lampblack is a painting on one's wall. 
When taps are stark, streets are lightless,
circuitous human trails at every trestle:
metamorphosis of the clerisy and critters
into messianists isn't a surprise. Morals
are for menials or those with little means.
The agency is with plutocrats and their
apple polishers.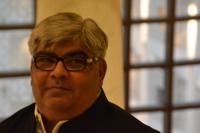 Sanjeev Sethi is the author of three books of poetry. His poems are in venues around the world: The Broadkill Review, Synchronized Chaos, Mad Swirl, After the Pause, Horror Sleaze and Trash, Former People, The Piker Press, A Restricted View From Under The Hedge, Bonnie's Crew, The Pangolin Review, Postcolonial Text, Be Untexed, and elsewhere. He lives in Mumbai, India.