"Places in Dreams," 'O aberrant phrases say pants in a wrecker...' and "Memories of the Star-Spangled Banner"
Places in Dreams
O Flatbush Ave. say an old hotel in the jungle can outside a boutique you far below see a bridge over a river
By the Jersey City shoreline the house on a hillside dawn's ethnographic museum early English girls' school light in the 1920s
What on the subway so a friend's parents' suburban house proudly a walled town in the north we an island bird sanctuary hailed a palatial hall
At a suburban train station the big ships in a river out the window twilight's amusement park last rural Florida gleaming Nevada
Whose under a wedding tent broad a cottage stripes a Japanese restaurant in New York and raised reservoir bright small Catholic city stars a hotel set into a hillside
Through my old high school the coffeeshop perilous bus station in Pittsburgh fight bus to Chicago
O'er a bus through old suburbs the in the Midwest ramparts Middleburg, Virginia we New Jersey watched a riverbank
Were an island so cobwebbed steps to the basement gallantly a path through woods streaming across fields
And a restaurant the South Orange rocket's building with retail on the ground floor red Montrose Ave. glare the beach
The Uncle Milton's office bombs a park bench bursting Montrose Ave. in a dock with a powerboat air Warsaw's Jewish section
Gave Vienna's Jewish section proof a restaurant through a church the flat gray landscape night Siracusa
That Prague's unappealing palace our health food store flag Nova Scotia was suburban library still Camp Kennebec Junior dining hall there a city street
O Harvard Square say a Jewish shop does a comfortable living room that busstop lit by streetlamps star south of Lincoln Center spangled New Jersey banner 168th St. in Manhattan yet iron railroad bridge wave near Columbia
O'er Vermont the house in Maplewood land Eastern Europe in 1848 of high-school prom the Bosnia free gloomy apartment
And Camp Kennebec Senior the trash pit in the woods home an old house of Avenue X the villa outside Budapest brave parking lots in Rome
---
O aberrant phrases say pants in a wrecker can every last secret sin you leather soda jerks see red hot oilcans
By red hot law students the bicycle delivery boys dawn's smelling leggings early seborrhea for sale light soil in a glowing mojo
What all dongs so the chrome mojo proudly we seven eleven we boiling handshakes hailed testing positive
At love noodles the pawned for fun twilight's eating buggy whip last the Lord's piece on ice gleaming the Lo-ord's particular carrot
Whose Lord without strength broad fangs through husbands stripes undressed an ambulance and love ya through pillboxes bright meringue buttes stars love ya priced to sell
Through my orton pemmed in salt the pelvic ointment perilous cherchez la femme fight down down boy policy
O'er an angelic Andreotti the ambulance-chasing ramparts misery machine we reason for madness watched them bite my bandanna
Were poison binoculars so bringing the devil gallantly reasons to be hostages streaming information on resurrection
And love part diamondine the ordinary hijacking rocket's perform this loving mascara red dildos break sound barriers glare holsters of opportunity
The precision hooliganism bombs dogs left along roads bursting efficient gigantism in poodle pudding air brain sold for aphrodisiac
Gave gulls' paranormal rescues proof milks a miner's daughter through police the leg the purple lop night dissect the perp
That pallbearer monstrosity our inside the orangutan flag the frightened toys was a brotherhood of telescopic sight still implicate this beanbag there silver heads
O oil in breathing gear say brain bath does pawned infant liability that awakened pellagra star pulls rice from egrets spangled roasting the finder's fee banner at the bottom of the well yet the reckoning and EPO wave wrong the parakeet
O'er boilerroom legislation the elder in our horror society land the paste of boys rooms of spiders the dungarees the sis rags the signpost free position the power bar
And inside the riding whip the tail on the walk home legislates our holster of this irradiated ketchup the women inside phones brave potable boys
---
Memories of the Star-Spangled Banner
O ladies and gentlemen say please rise can for our national anthem you my friend accidently squirted mustard see on a lady's beautiful mink
By at Yankee Stadium the Mrs. Doby played dawn's The Star-Spangled Banner early during assemblies light at Marshall School
What in South Orange so a baseball game proudly on TV we an Olympic gold hailed on TV
At an Olympic gold the on TV twilight's the World Series last on TV gleaming Marshall School graduation day
Whose ladies and gentlemen broad please rise stripes for our national anthem and a baseball game bright on TV stars a football game
Through on TV the South Orange Junior High perilous graduation day fight an Olympic gold
O'er on TV the an Olympic gold ramparts on TV we Columbia High watched graduation day
Were the World Series so on TV gallantly the Super Bowl streaming on TV
And everyone the please rise rocket's for our national anthem red I stay seated glare after 2003
The in protest against bombs our fraudulent invasion bursting of Iraq in I stay seated air at my 25th college reunion
Gave I stay seated proof during the moment of silence through for Ronald Reagan the I stay seated night at elementary-school graduations
That I stay seated our at middle-school graduations flag I stay seated was at high-school graduations still in protest against there our illegal occupation
O everyone say please rise does for our national anthem that a baseball game star on TV spangled a football game banner on TV yet an Olympic gold wave on TV
Oe'r an Olympic gold the on TV land an Olympic gold of on TV the World Series free on TV
And the Super Bowl the on TV home with a flyover of The Screaming Eagles the thank you brave for keeping us free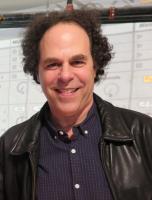 Michael Ruby is the author of eight poetry books, most recently Compulsive Words (BlazeVOX, 2010), American Songbook (Ugly Duckling, 2013), The Mouth of the Bay (BlazeVOX, 2019), The Star-Spangled Banner (Station Hill, 2020) and the forthcoming Close Your Eyes, Visions (Station Hill, 2024). His trilogy in prose and poetry, Memories, Dreams and Inner Voices (Station Hill, 2012), includes ebooks Fleeting Memories (Ugly Duckling, 2008) and Inner Voices Heard Before Sleep (Argotist Online, 2011). He co-edited Bernadette Mayer's early books, and Mayer's and Lewis Warsh's collaboration Piece of Cake (Station Hill, 2020). He lives in Brooklyn and worked for many years as an editor of U.S. news and political articles at The Wall Street Journal.