"Pins" and "Cough & Shuffle"
Pins
Chalk marks
rolling off black aprons
were the tiny heads of
trump dolls
that veered
where the pins weren't
sharper than the air
stopped by pin pricks
hidden in the remote control
---
Cough & Shuffle
Cough wall lens
without a 9 to dry it with
or a 23 for licking
nothing blue
under coats
and a foot fire
moms that shuffle
shuffle toward the stairs
with the black corner
of checkerboards
touching the patent leather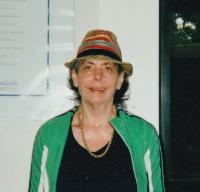 Stacey Allam is 56 years old and has been married for 27 years. She has two children, 25 and 23 respectively. She's originally from Rego Park, Queens, New York, but has resided in Brooklyn for 28 years. She has been writing poetry most of her life.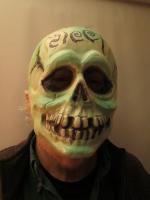 John M. Bennett has published over 400 books and chapbooks of poetry and other materials. He has published, exhibited and performed his word art worldwide in thousands of publications and venues. He was editor and publisher of LOST AND FOUND TIMES (1975-2005), and is Founding Curator of the Avant Writing Collection at The Ohio State University Libraries. His PhD (UCLA 1970) is in Latin American Literature. His latest books include Select Poems (Poetry Hotel Press/Luna Bisonte Prods, 2016) and The World of Burning (Luna Bisonte Prods, 2017). He is co-editor, with Geoffrey D. Smith, of two works by William S. Burroughs: Everything Lost: The Latin American Notebook of William S. Burroughs; and William S. Burroughs' "The Revised Boy Scout Manual": An Electronic Revolution; both published by The Ohio State University Press.