The photo has turned ripe today.
Now it's been found. Its age caught up
Now it has a bunch of expired
copies of me.
Behold, how they want to get me!
But they expire soon.
I came too early—later
this age caught up with me.
Wish it would let me be!
Seizing each other up. Our common pen is too tight
Did I run ahead?
It thinks it improves me by plastering me.
It stuffs my pores.
Blocks my air.
I'm getting weaker. It lost its way.
The élan is escaping through its own fissures.
What will materialize again, is
the shape, what it would put on: locks.
Thus what is filled in it evaporates.
There are a mere turning back both of my porcelain
bodies: two expired logos.
In its heyday no one wanted the photo.
Yet time made me pretty
now, when I became a lot of
ready made copy.
As I'm lagging behind.
Once my age, you are passing me late.
(Sharon Stone swaps her legs.
She might catch up with me.)
Did I run ahead? How reckless.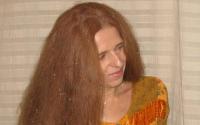 Kinga Fabó (November 1, 1953–March 4, 2021) studied in the Hungarian-English department of Eötvös Loránd University from 1972 to 1977. From 1978 to 1980, she belonged to Eötvös Loránd University's humanities faculty. From 1981 to 1986, Kinga was on staff at the Research Institute for Linguistics of the Hungarian Academy of Sciences, within the department of general linguistics. She was a candidate for the Academy between 1986 and 1989. Since the 1980s, she has published a number of poetry and essay collections, among them a bilingual Indonesian-English poetry anthology released in Jakarta in 2015. That same year, she received first prize in the 2015 Free Poets Collective International Poetry Contest in Middletown, Connecticut. She was the poetry editor for Diaphanous, an American journal of literature and the arts.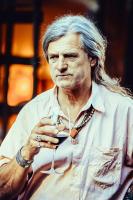 Gabor G Gyukics (b. 1958) is a Hungarian-American poet, jazz poet, literary translator born in Budapest. He is the author of 11 books of original poetry, 6 in Hungarian, 2 in English, 1 in Arabic, 1 in Bulgarian, 1 in Czech and 16 books of translations including A Transparent Lion, selected poetry of Attila József and Swimming in the Ground: Contemporary Hungarian Poetry (in English, both with co-translator Michael Castro) and an anthology of North American Indigenous poets in Hungarian titled Medvefelhő a város felett. He writes his poems in English (which is his second language) and Hungarian. His latest book in English is a hermit has no plural (Singing Bone Press, 2015). His latest book in Hungarian was published by Lector Press in May 2018. Photo by Sándor Gyapjas.