On reading DC Wojciech's The Longest Breath
Self-defense: the reaction against what is felt as an attack against one's self, one's person, a virtue of not holding one's breath. The poems in The Longest Breath (Anvil Tounge Books, 2020) confess a need for vocalizing, for utterances, testimonies of health against the ease of dreams or automations of pride.
"If you see a crime where you see my joy
you will have no recompense from yr past voices or their ages…
the dogs of war show their teeth
at the floor of yr dust factory…"—"Continuum" p11
The poems reveal a relatable latent outrage, but not without intonation, craft and dignity. The simple lines create simple rhythms that relax memory into utterances.
"The jazz / of yr heat beat…
you who make life / you make blood
you who make death . you make breath… /
when the poets run out of words
and the politicians run out of lies…"— "against decay ii" p13
I really enjoy the poet's repetitions in this poem. The rhythm in "You who, you who…" makes an emphasis on the "u" sound to call our attention as if saying "you there", encourage us to look back ("you who…" "when… runs… runs…") and plays with intonation by a guided inflection that oscillates, seesaws and reverses. These paired repetitions in both stanzas make the lines more permanent, like a magic mirror effect and affect. Subtle as a disaffected kid, they play with mature audacity. This is a book that pleases the ear, a kind of book to read aloud, like you're learning how to speak and breathe again. Lots of fun and insights in DC Wojchiech's The Longest Breath. Take it outside, by the beach or restaurant, like script lines to be re-uttered for the polish of an encounter. Only one poem, "Patience" (p16), is long in form, but broken down in quatrained stanzas, the inflections convince the heart and work as comic quotables ("I'm waiting for the president to ditch / his suit and tie and give his speech… I'm waiting for Bob Kaufman / to delete the month of April… I'm waiting for the sun and moon / to make love so we can raise their children…"). Only on continuum we become unvanquished "crooning visions the world once flat bounces back to the senses even in darkness these forays foreplay a light switch to yr mouth… let the ones who want to outlive their work discuss canons & legacies—I have come to crawl your walls & investigate yr tooth brush for lies…" ("SONG OF THE UNVANQUISHED, after a line by Marc Eliot Stein," p 90).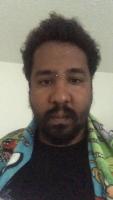 Darryl / Dadou / Baron Wawa is a Port-au-Prince born Haitian-American who studied Photography and Creative Writing. He enjoys chocolate and good books. That said, maybe a movie is a good book. He loves to work with images and words and their pairing.