There
was much
to learn in the
   folds 
        of
                    sleep,
when the night rain rained,
down on my thin skeleton
In other realms
the fields of summer
were
     in 
                             adornment
Clad in black I walk the streets
of yr. city,
where once I walked,
 In white,
       In
                          White
In
the thin line
in the white meadow
red rode the heart chakra
into
         the 
                                  millennium
I didn't mean to be a girl or boy
 I like boys said my
Mother to the bank teller
after
           my 
                          father,
                                     died,
After
my father died,
& I
               met
                                       you.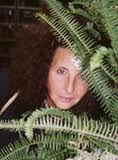 Louise Landes Levi is a poet/translator and musician. Recent works: The Book L (Cool Grove Press 2010), Love Cantos 1-5 (Jack in Your Box Press 2011), Crazy Louise or La Converdazione Sacra (Station Hill 2016), Where I Stand in Angel (Il Bagatto, 2018). Recent recordings: From the Ming Oracle (Sloow Tapes, 2014), Ikiru or the Wanderer (Oaken Palace, 2018) & Colloidal LOVE (Audio.Mer, 2018). Photo by Ira Cohen.