Nordette Adams and S. Gerard Clark
Nordette Adams
---
S. Gerard Clark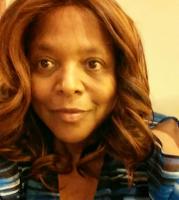 Nordette N. Adams lives in New Orleans, Louisiana, in her late parents' post-Katrina remodeled home. Her work has appeared in literary journals such as Quaint Magazine, Adagio Verse Quarterly, About Place Journal, and Rattle Magazine's online "Poets Respond" series. If you should happen to open the Oxford English Dictionary and find that the usage examples for the word "rabid" no longer insult feminists, you may thank or not thank her and other scholars for that improvement. Adams also has an MFA in Creative Writing from the University of New Orleans. You may learn more about her at Her411.com.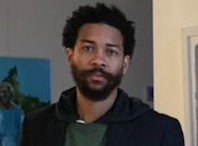 S. Gerard Clark is a native of Chattanooga, Tennessee that currently resides in New Orleans, Louisiana. Sean has a background in art and public health. His aim is to bridge the gap between art and public health. As an artist Sean focuses on his surrounding environment and the issues people face in that environment. The subject matter of his art ranges from the external natural environment to one's own internal environment, which includes topics such as African-American history, health, and the idea of home. His art is further aimed at creating questions and narratives in the minds of the viewer.

Unlikely Salons were a series of monthly salons of literature and art at the Zeitgeist Theatre and Lounge in Arabi, Louisiana, just outside New Orleans. Unlikely Salons typically featured one writer and one visual artist.
Unlikely Salons were hosted by Jonathan Penton and Leona Strassberg Steiner. The series is now over, but several recordings can be found here at Unlikely Stories Mark V.