"no one ever asked you," "in the lounge of night," "an absence all yours," and "a voice across the ocean"
translated from the Bengali by the author and Vincent A. Cellucci
no one ever asked you
no one ever asked you
how do you feel coming back again and again
on paper and ink of an ordinary poet
on many humid nights   you monsoon her heart                      
standing on the bank of the river that appears muddy or clear
she stows your raindrops in the flowing water
no one ever asked you
how does it feel to be submerged
in the affection of an ordinary poet
ignoring the frigid wind, word's breath draws fervor
your bubbles rising in the water are her answers
tracing the surface   she diffuses your existence   floats
no one ever asked you
how does it feel to be mistaken
for a river by an ordinary poet   
she knows she soothes the incessant need to hear
of yourself which even summer can't evaporate
her devotion overflows   a full river in every season
don't you know that all of her loves reside inside you
they burst their margins   breach their levees
when that girl forgets your entire entity
then ask yourself how does that feel
how do you feel when a lover loves you into oblivion
let it be   don't reply   even if you know the answer
keep flowing as far as you can   even in her mistaken lines
don't offer a flood by your brimming admission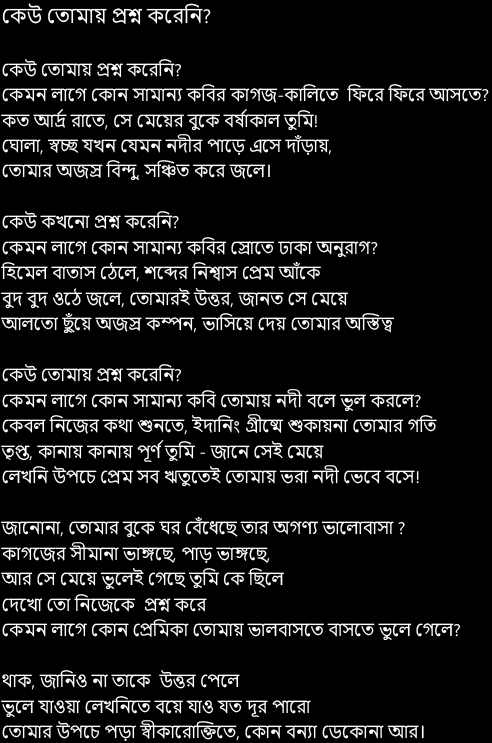 ---
in the lounge of night
a disobedient dew comes pounding on my door, a melancholy breeze
often on a late autumn evening, often at the sleepless dawn
am I turned concubine? a drunk seeking solely to shirk?
look! to conceal you, the red evening hurries into darkness into dusk
when I find myself in the lounge of night, I pull my choice on the porch
here the stars disband in the immaculate sky
identical to our stories, in disheveled heaps
the orange lantana and purple pansy color the cracked soil
this autumn identical to how I cover you with poems
no holiday, no festival, only the breeze's sympathy
detonating the border of our distance
since the leaves will fall soon, I'm inviting you to lie quietly beside me
amass more intimacy, anointing your wounds in the lounge of night
then are you turned concubine? a drunk seeking solely to shirk?
maybe you just came with your weary, shaky hands
to deposit your last shards on someone's lap
someone will adhere you again, genuflecting in the autumn lounge of night  
look! your morning's already arrived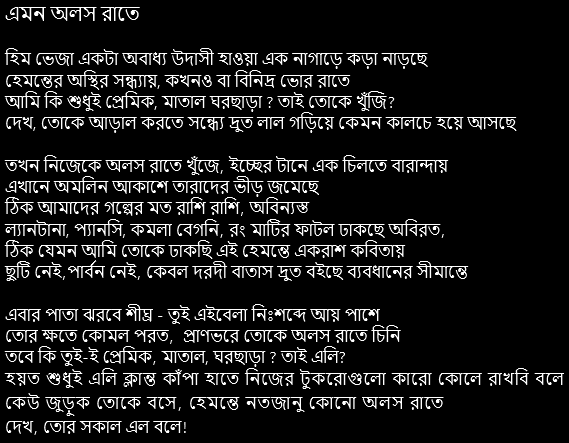 ---
an absence all yours
my dear poetess jessica I can agree with you
why the curtain turned so blue
why the field paled such yellow
surely solely love did not make them so
but tell me oh poetess
would the veranda floor bleed this red on my canvas
if not for my fever radiating for its tenant?
would the full moon descend taking the rouge floor for a bed?
would the storm-shredded jute curtains stir so impatiently?
would the night sky of blue and white seep into the floor
just to skim the crimson laid bare?
would the tussle of color and brush
cloud cover the floor with white patterns?
would light and shadow pace the worn balcony
were this not my love's address?
jess, I know
floors are red   curtains are blue
but the night I found the veranda vacant
happens again in vision  
melds the loud colors to touch
yes I heard your words poetess
don't read into the field's pale yellow
now listen to me
red wouldn't shroud the canvas
if not for the longing eyes of midnight
guiding me by the hand across the veranda
to nestle under the shelter of my breast
oh poetess jess​
do you still not see?
love leaves its address
for me to pour more red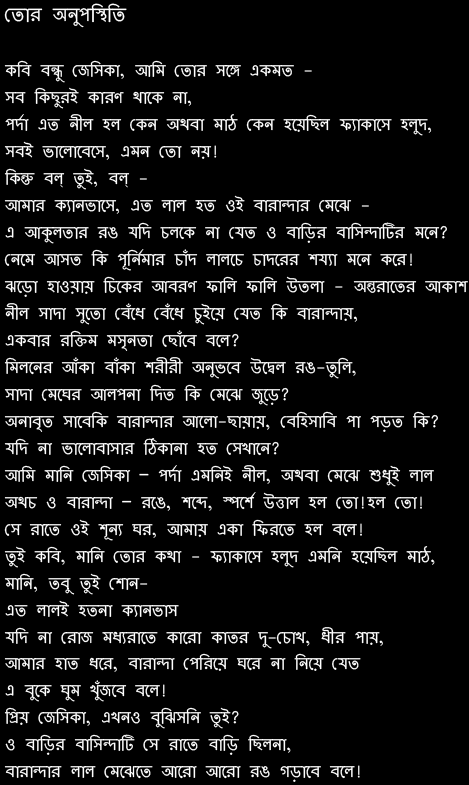 ---
a voice across the ocean
don't go right now
emits from your dark studio   floats into my solar noon
with a full throat midnight calls for a tryst from the metropolis
opposite the window the moon swelled from your groans   overflowed
across the hours the moon still stumbles into my sight
do you know?
the honeymoon doesn't trickle its sweetness on the farthest poles at once
beneath a lazy shawl that can't cover us both   our bodies don't ask if it's time to arise
your twilight colors melt   caress my sky's sunrise
your speechless night desperately clenches my restless noon
do you know?
now only the words wash the days in their tidal waves
please don't go
I could not come when the time was right
would you hear me now across the ocean if I say, I won't go.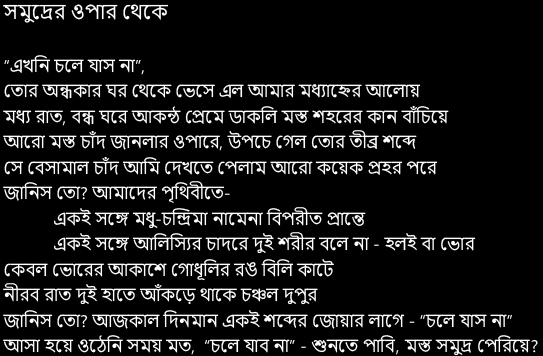 Debangana Banerjee was born and raised in Santiniketan, West Bengal, India and lived there until she came to Baton Rouge, Louisiana in 2006. Debangana received her master's degree in fine arts from Visva-Bharati University in Santiniketan in 2005. She received her second Master of Fine Arts in printmaking from Louisiana State University, Baton Rouge in August 2010 and published the chapbook, come back river (Finishing Line Press) in 2014.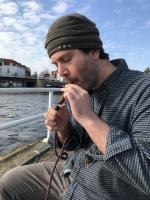 Vincent A. Cellucci wrote Absence Like Sun (Lavender Ink) and An Easy Place / To Die (CityLit Press). He edited Fuck Poems an exceptional anthology (Lavender Ink). He has three collaborative titles: come back river (Finishing Line Press), Bengali-English translation collaborations with Debangana Banerjee, and with Christopher Shipman ~getting away with everything and _a ship on the line (both from Unlikely Books). Vincent performed "Diamonds in Dystopia," an interactive poetry web app at SXSW in 2017, and the poem was anthologized in Best American Experimental Writing 2018. After writing and living it up in Louisiana for 18 carnivals, he moved to the Netherlands to experience sinking some place new. He haunts the TU Delft Library.