Once a year in Budapest the local government of each district has an event called "lomtalanitás" or "ungarbaging", an opportunity for people to rid their closets and basements of anything that they don't need. The dates are posted a few weeks ahead of time, time enough for people to pile things onto the curb outside their building in preparation for when the garbage trucks will come to whisk it all away.
I found out that my district's date was coming soon when I was walking home one day from the elementary school where I teach English. There are a few homeless men who sit in the park at the end of my block. They play chess together in the afternoons and drink cheap wine from plastic bottles in the evenings. I have gotten to know one man fairly well. A year ago when I moved into my building he had offered to carry my groceries for me.
He is probably in his 70s (it's hard to tell whether his face is deeply wrinkled or just dirty).  He told me that his mother named him Istvan after Hungary's first king. His parents died when he was still a baby. He was placed in an orphanage, and after graduating at 18 he was given an apprenticeship in the printing press for the national Communist daily newspaper. He lost his job when the newspaper began to crumble during the 1989 government collapse and had been homeless ever since. I read somewhere that the majority of homeless people on the streets of Budapest used to be employed by the government before their jobs were dissolved through the democratic reform process in the 90s. Socialism may not have been popular or widely successful, but it was a reliable source of income for most of Hungary's population through the 70s and 80s. Istvan said you were given a job you didn't like, an apartment that was too small, and an East German car which ran on a mixture of gasoline and oil. These things were guaranteed. Democracy changed all that. Now the cars were newer and there were western products in the grocery stores, but some people were left behind.
He was unfailingly courteous to me as a woman some 40 years his junior. His Hungarian, naturally, is impeccable. No native Hungarian speaks the language poorly. The language is one of the world's most difficult and is so complicated and precise that if one speaks it fluently it is impossible to make grammatical errors. My listening skills were better than my speaking ability, so I preferred to allow him to talk while I listened: "How do you find yourself today, my little one?", "Leave that to my care.", and "My lady, my duty."
When Istvan reminded me about the upcoming ungarbaging days he immediately offered to help me bring any heavy things out onto the street. I suspected that he hoped for a generous tip, but he also likely saw this as a source of extra income. Hungary has a fairly robust homeless recycling network and Istvan seemed to have an industrious eye and a care for his well-being which seemed a touch higher than what I was used to seeing in the homeless community in the park. His clothes were worn but well cared for. I once haltingly praised him for his smart shirt, and he gestured to the pond in the center of the park where he said he does a weekly round of laundry.
He agreed to meet me in front of my building the next morning. He was there promptly at 8. When I moved into my apartment last year the previous tenant handed me an extra key which was very old-looking. It was for the basement storage unit. Most apartment buildings like mine, built before the 20th century, had narrow winding corridors below ground which were often used for bomb shelters or coal storage before the city switched to a cleaner method of heating. During the 90s the basements were eventually carved up into individual storage units, one per apartment. I had only opened mine once, a week after I moved in a year ago, long enough to realize that I needed more time to weed through everything that accumulated in there over the years.
I led Istvan down to the storage unit and turned the ancient key in the lock. I pulled at a dusty chain and a dim bulb lit up overhead, swaying gently, moving shadows on the walls. The previous tenants had left several old, empty suitcases and a variety of plastic children's things. As I pushed deeper into the storage unit, I began to find older things. There was an antique, foot-operated German sewing machine with the brand name "Pfaff" written in ornate lettering on the side. There were three crates of records, all recordings of from Hungarian operas in 1939. Everything was coated with dust.
Istvan wouldn't allow me to do any work. I protested that it was my trash, but he kept repeating, "Forbear that you catch cold." Within an hour the storage unit was almost empty. The last thing was a stack of old newspapers against the back wall. Istvan bent to pick them up but then stopped. He lifted one of the papers from the stack and brought it under the light bulb for a better look. For a long moment he stared at it.
When he spoke next his voice was strange. He said that it was a political newspaper which had been written in the years before the 56 revolution against the Soviet Union when many Hungarians were killed. He leafed through it slowly and was silent. Then he showed me a black and white photograph on the editorial page.
"Who is it?" I said.
"He is the editor."
I looked at the picture more carefully. The man in the photograph seemed familiar. I looked up at Istvan.
"It's my father," he said.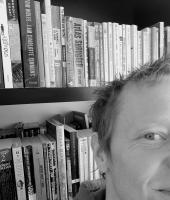 Zary Fekete…
…has worked as a teacher in Hungary, Moldova, Romania, China, and Cambodia.
…lives and works as a writer in Minnesota.
…has been featured in various publications including Zoetic Press, Bag of Bones Press, and Mangoprism.
…has a debut chapbook of short stories coming in February 2023 from Alien Buddha Press and a novelette (In the Beginning) coming out in May from ELJ Publications.
…enjoys books, podcasts, and long, slow films. Twitter: @ZaryFekete