The final Unlikely Salon took place on August 19, 2019, and starred poet Megan Burns and painter Kaori Maeyama. Both gave great presentations, but unfortunately, Kaori's video didn't come out well, so we're only presenting Megan's. We hope you enjoy it!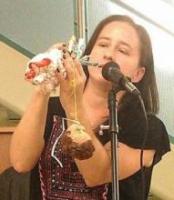 Megan Burns is the publisher at Trembling Pillow Press and the co-founder of the New Orleans Poetry Festival. She has two books Memorial + Sight Lines (2008) and Sound and Basin (2013) published by Lavender Ink. She has two recent chapbooks: Dollbaby (Horseless Press, 2013) and i always wanted to start over (Nous-Zot Press, 2014). Her third book, Commitment, was published in 2015. Horse Less Press released her Twin Peaks chap, Sleepwalk With Me, in 2016. Her fourth book was BASIC PROGRAMMING (Lavender Ink, 2018).

Unlikely Salons were a series of monthly salons of literature and art at the Zeitgeist Theatre and Lounge in Arabi, Louisiana, just outside New Orleans. Unlikely Salons typically featured one writer and one visual artist.
Unlikely Salons were hosted by Jonathan Penton and Leona Strassberg Steiner. The series is now over, but several recordings can be found here at Unlikely Stories Mark V.