"Mary Oliver (1935-2019)" and "A Discussion in the Dark"
Mary Oliver (1935-2019)
—who wrote my favorite volume of poetry, "The Leaf and the Cloud".
She will always be the onomatopoeia of flowers,
the metaphor of fourteen-year old locusts and the old oak branch,
an alliteration of dogs, unleashed, exploring
swamp, puddle, briar patch, bramble of leaf, sieve of earth:
 
Can you not see her in black snake
dipping herself into black pond too early for dawn?
In the imprint of bent clover wet with dew?
Near the stone of the slug where garden snail glistens?
In the soft petals of the apple tree painting both tree and earth?
 
Ants and thorns, love and stars, moon and a litter of light across water,
fox and her teeth, wolf and her courage, spider and her thick strands of silk.
---
A Discussion in the Dark
I was slowly moving through darkness to warmth and a grand light
when God let in a flash of anxiety against her breast
welding her lungs into a scream of wheeze and then a snarl.
What had to be done had to be done.
 
The darkness flickered into birthday candles 
and light blossomed into a rose, everything comfortable and sturdy. 
As suddenly as I was cold, now I felt the heat of blankets.
This is how something ends to make something else begin.
 
We sat still in the room of nervousness Argus eyed,
the heat from the registers blasting. Silence became shadow.
Neither of us spoke; neither of us had to.
 
Then she stood, her eyes watery and luminous, one hand on her stomach
and I stood with her, unsteady, my muscles remembering, my memory remembering, 
Once in awhile all one needs is a pause, then a thank you.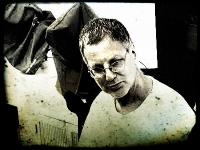 Michael H. Brownstein has been widely published throughout the small and literary presses. His work has appeared in The Café Review, American Letters and Commentary, Skidrow Penthouse, Xavier Review, Hotel Amerika, Free Lunch, Meridian Anthology of Contemporary Poetry, The Pacific Review, Poetrysuperhighway.com and others. In addition, he has nine poetry chapbooks including Firestorm: A Rendering of Torah (Camel Saloon Press, 2012), The Possibility of Sky and Hell: From My Suicide Book (White Knuckle Press, 2013) and The Katy Trail, Mid-Missouri, 100 Degrees Outside and Other Poems (Kind of Hurricane Press, 2013). He is the editor of First Poems from Viet Nam (2011). Michael recommends Project Agent Orange.