M.A.L.ediction of My Offense, Many of Whom are Entering Us
This poem is a mashup of Claudius' soliloquy in Hamlet, and Donald Trump's speech declaring his second run for president.
O, my offence is rank,
it smells to heaven;
I'm a victim, I will tell you.
 
The vicious Republican caliphate, it hath
the primal eldest curse upon't,
which no president was able to conquer.
 
A brother's murder, pray can I not?
Though inclination be as sharp as will:
I've gone decades, decades without a war.
 
My stronger guilt defeats my strong intent;
the first president we don't want, and
a nation in decline, we built the wall.
 
Prior to Covid coming from neglect,
what if this cursed hand to the
southern border has been erased?
 
Forgive me my foul murder,
thicker than itself with brother's blood,  
our country is being invaded.
 
Is there not rain enough in the sweet heavens,
by millions and millions more subpoenas,
to wash it white as snow?
 
It is the corrupted tears trial,
and I say that not in laughter,
but to confront the visage of offence,
 
And what's in prayer but this two-fold force,
for a very bad and sinister reason,
to be forestalled, ere we come to fall.
 
The blood-soaked streets of our pardon'd
being down, then I'll look up;
our once-great cities are cesspools.
 
My fault is past, but, O, what form of prayer,
of violent crimes we completed the wall
what can serve my turn?
 
You cannot mention the nuclear word,
that cannot be; since I am still
possess'd, America has been mocked.
 
Of those effects for which I did murder,  
derided and brought to its knees,
my crown, mine own ambition, and my queen.
 
American people will overwhelmingly
be pardon'd and retain the offence,
reject the China platform of national ruin.
 
My violent ambitions,
in the corrupted currents of this world,
much criticism is being placed.
 
Offence's gilded hand may shove justice,  
on the fact that the left's party,
oft 'tis seen the wicked prize itself.
 
I do want to point out that the midterms
buys out the law: but 'tis not so above,
there is no shuffling, there the action lies.
 
Wins and only losses, politically incorrect,
in his true nature; and we ourselves compell'd,  
this is an elegant night, and an elegant place.
 
Even the teeth and forehead of our faults
fake news media, very elegant,
to give in evidence, what then, what rests?
 
All of the money for machines caught dealing,
try what repentance can: what can it not?
You're going to have a big glorious.
 
Yet what can it be, when one can not
repent to make ISIS great
and victory again?
 
O wretched state! O bosom,
black as death! previous to the previous,
of our blood in the caravans.
 
O limed soul, that,
struggling to be free,  
we call it the America virus.
 
What if this king media art more engaged!
Help, angels! Make assay!  
Now president for life, I am China king.
 
Bow, stubborn knees; and,
heart with strings of steel,
I feel very guilty.
 
Be soft as sinews of the newborn babe!  
The cities are rotting,
and they are indeed sinister.
 
All may be well,
and by the end of the day,
you're executed.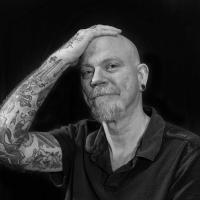 Erwin Dink is a poet, visual artist, invocateur, accidental yogi, and a dilettante. He dabbles in patamysticism which is the spiritual branch of pataphysics. Erwin recommends MenHealing.